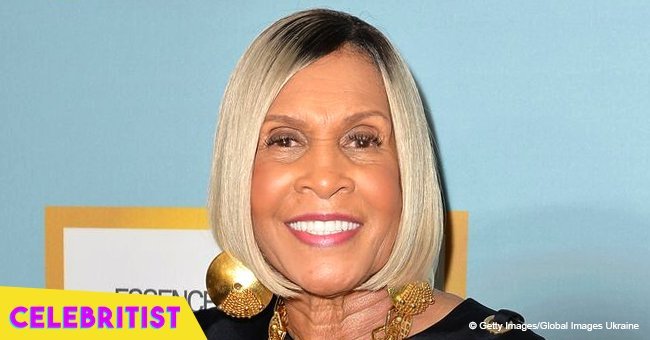 Robbie 'Sweetie Pie' Montgomery, 78, stuns in black & white outfit and fedora cap in new pic
"Welcome to Sweetie Pie's" star, Robbie Montgomery, is not just the visionary grandmother who entertained fans with her reality TV show. She is also strutting her stuff as a fashion icon despite recently wrapping up the show.
The 78-year-old entrepreneur shared a photo of herself wearing an animal-print blouse and matching trousers. She completes her ensemble with black & white shoes, a fedora hat of the same color, and a black purse. The matriarch notifies her followers:
"Headed back out to the urban league expo today"
Miss Robbie, as she's fondly called, starred in her show's series finale on June 9, but the former backup singer is not nursing any regret. And she shouldn't. "Welcome to Sweetie Pie's" ran for seven seasons and is credited for much of the popularity enjoyed by Oprah Winfrey's OWN network.
But despite the show's numerous awards and impressive ratings, the one thing Miss Robbie holds dear is family. There were arguments and hurtful words, but at the end of the day, family stuck together at Sweetie Pie's.
When her son and business partner, Tim Norman, opened up new restaurants off the Sweetie Pie's brand, the music enthusiast took him to court over trademark infringement. It did not stop her from confessing during an interview that she would always love her son. In her words:
"There's lot of trial and tribulations, but we are family. …Businesses come and go, but family is forever."
Miss Robbie sang backup for music icons, Ike and Tina Turner, in the 1960s but it appears she still carries a passion for music. Documented in "Sweetie Pie's" finale, the doting grandma took to the studio to whip up some magic.
Tim, who had been contemplating a rap career, was also at the studio. The two had a joint session that ended in them making headway towards repairing their relationship.
This much seems obvious: "Welcome to Sweetie Pie's" may not be showing on TV anymore, but it still a favorite to so many people.
Please fill in your e-mail so we can share with you our top stories!