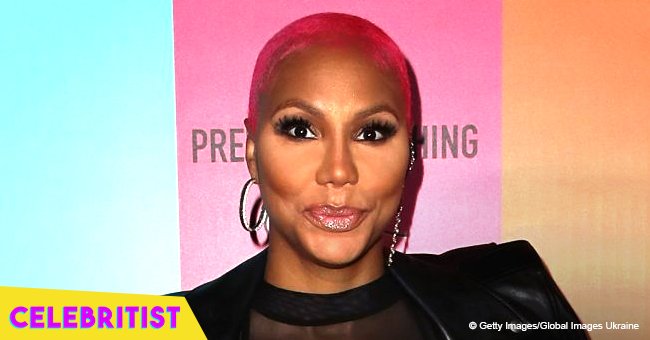 Tamar Braxton shows off her twerk moves in recent video shot in the kitchen
Tamar Braxton does the dance of joy after addressing issues concerning an airline employee who she believed "targetted" her.
Tamar Braxton seems to have moved on from the recent airline drama she was involved in as she shared a video doing the dance for joy, aka twerking, in her kitchen.
The singer was feeling back to her old self on Tuesday as she flaunted her dance moves twerking against a chair inside her kitchen. She revealed in her caption that she was waiting for her friend LeTroy Davis who was taking long in the bathroom which prompted her to break into dance. Tamar also disclosed they were on vacation which explains her carefree mood.
"I think only @mrldavis and I act foolish like this when we are on vacation and someone is taking too long to get out the bathroom from getting ready. Now who's doing too much? The hour long wait or Troy and I? #bestlifeliving."
Over the clip she posted, Tamar also wrote the words "When you forget to put your wig on" as she was twerking with a bald head. She looked great though rocking the do.
Just last week, Tamar was in a similar situation but onstage and donning a blond wig. She twerked and danced in a sheer black dress as she delivered a fiery performance to Drake's trending song 'In My Feelings.' Tamar nailed the choreography born out of the dance challenge that's been making waves on social media lately.
Tamar has every reason to be dancing for joy these days as it was recently announced she'd be starring in Snoop Dogg's new musical, 'Redemption of Dogg.' As the lead star of the show, she'll be touring the country beginning this fall. Tamar made the announcement on her Instagram when she wrote,
"So me and uncle @snoopdogg is going on tour singing, acting, rapping and being who we are!!!! your city will be posted soon!"
The 'Braxton Family Values' star was also on tour during the summer. She launched her solo tour after she was booted from her sister Toni Braxton's own tour just a month before they were hitting the road. This prompted her to spread her wings and test her independence by going solo.
Tamar's week may have been a happy one but she recently had to address an issue involving an airline incident. Towards the end of July, a video was posted by her sister showing the pilot of Delta Airlines reprimanding her for not following his instructions. To explain her side, Tamar told TMZ she believed she was mistreated because of her reputation on TV and felt she was "targeted." She didn't blame the airline and instead suggested some bad airline employees just needed to be weeded out from the company.
Please fill in your e-mail so we can share with you our top stories!