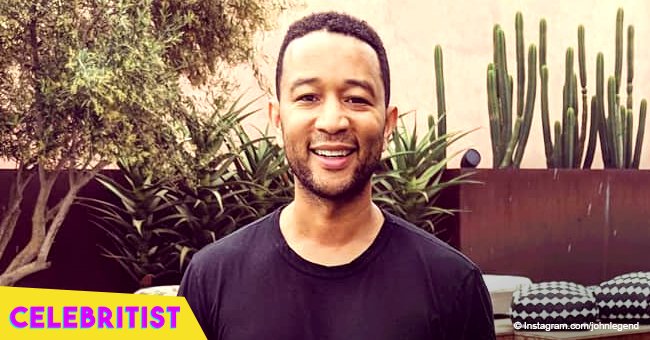 John Legend celebrates son Miles turning 3 months with close-up pic & they look alike
John Legend and Chrissy Teigen's son, Miles, is three months old, and an adorable photo his proud father posted is revealing who he really looks like.
It's a celebratory week for John Legend's family as their youngest, Miles, turns a month older. On his Instagram, the singer marked the occasion by sharing the sweetest pic of his little one and writing,
"My beautiful boy Miles is 3 months old today."
Fans immediately poured out their warm wishes while gushing over John's adorable son.
"Happy Birthday to your beautiful son. God bless!"
"Already? Wow, time flies. He's so precious. Sending love to your family,"
Miles' latest pic is another reason to deem him as his father's mini-me. Three weeks ago, Chrissy shared a photo of little Miles in his diapers and it was clear he inherited his father's charming demeanor. Just take a look at the photo below.
A separate video the model mom posted where Miles is laughing and kicking also reveals his uncanny resemblance to his father especially when he smiles.
In his new photo at 3 months, he's undoubtedly a copy of his father too. Dressed in a printed onesie, the little boy registered the same facial features as his pop.
John and Chrissy have been enjoying every moment of their new family life. Though their dynamics changed since welcoming Miles in addition to their 2-year-old daughter Luna, John told HollywoodLife.com,
"Everybody is good, Lunais good, Miles is good. Chrissy is good, everybody is good."
John adds that he and Chrissy manage with their two children as they split responsibilities.
"When Chrissy is breastfeeding, then I will be out playing with Luna in the yard. So the idea of splitting up is a little different than what we had before… But it is good to have two of us there to handle the two of them!"
Despite having their hands full with two kids, John and Chrissy still find time to be alone together. In fact, just a little more than a week after Miles' birth, the couple went on a date night. John even shared a photo from their first outing after welcoming their son and labeled it "First post-Miles date night."
John will need to take his wife out more often if he intends to have more children. He was recently asked if he was finished having kids and he said, "I don't think so." Chrissy seems to be on the same page. She revealed in 2016 right before Luna was before that she could see herself pregnant throughout her 30s.
Please fill in your e-mail so we can share with you our top stories!