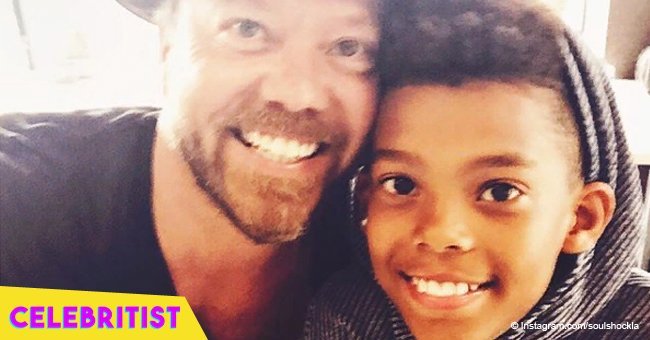 They're the husband & son of a popular '90s R&B singer who sadly passed away at the age of 46
R&B singer Charmayne Maxwell died in a freak accident after she fell on a wine glass at her Los Angeles home. The 46-year-old singer is survived by husband, Carsten, and son, Nicolaj, who is now 14 years old.
Charmayne Maxwell was born on January 11, 1969, and died a tragic death on February 28, 2015.
According to TMZ, the singer is reported to have fallen backward at the doorway between her house and the back patio while holding a wine glass. The wine glass shattered on the floor behind Maxwell's head, and when she inevitably fell, shards of glass punctured the back of her neck in two places.
Reports also stated that there was an injury to the back of her head - a probable outcome of her fall that could have left her unconscious.
Charmayne was reportedly found by her husband and died on the way to the hospital.
Authorities didn't suspect any foul play or domestic violence, but one of the theories is that she could have been intoxicated before falling to her death.
She left behind a 14-year-old son, Nicolaj Hojer, and her husband, Carsten "Soulshock" Schack, a Danish music producer who had been hired to work with Brownstone after the group signed with Michael Jackson's MJJ Music record label.
The 46-year-old member of the Grammy-nominated Brownstone was with the group for more than a decade, with the band's biggest hit being "If You Love Me."
Now, the father-son duo is closer than ever. Splitting their time between Europe and America, Carsten and Nicholas are often seen hanging out together and with the producer's friends. In recent photos posted to the proud dad's Instagram account, he congratulated the boy for his middle school graduation.
Rocking a dark blue blazer over a white t-shirt, white pants, and suspenders, Nicholas posed with his diploma and graduation certificate, giving a huge smile to his dad's camera. "Someone is growing up! #graduation," Carsten captioned the photo of his son.
The producer is currently working with Capitol Records and a new artist named Maya B. She recently released her first single, "Selenas".
Please fill in your e-mail so we can share with you our top stories!