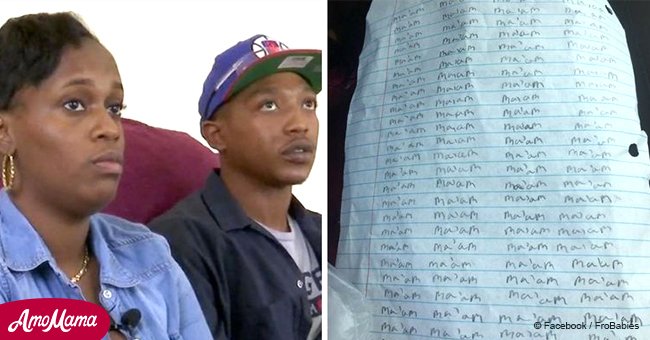 10-year-old boy was punished for calling his teacher 'ma'am,' parents say
Teretha Wilson's son seemed upset when he returned from school. She asked him what had happened and his response confused her even further.
Tamarion Wilson, a fifth-grader at North East Carolina Preparatory School, had barely started the school year when he suddenly got into trouble with his new teacher for an incredibly trivial reason.
When his mother asked him what had happened, he responded that he had called her "ma'am."
She was utterly perplexed by this statement and started digging through his school bag to see if she could piece together what he meant.
Read more on our Twitter account, @amomama_usa.
Inside his suitcase, she found a sheet of paper on which he had been forced to write "ma'am" four times per line and on both sides.
She asked him to explain what she was looking at and Tamarion said his teacher had become angry after he repeatedly called her "ma'am," despite being asked not to.
He had to write the word out as his punishment and the teacher also insisted that he has the sheet signed by his parents.
Teretha and the boy's father, McArthur Bryant, had taught their children to always be respectful of their elders, and to call them "ma'am" and "sir."
"He had a look on his face of disappointment, shame. At the end of the day as a father, to feel kind of responsible for that, knowing that I have been raising him and doing the best that I can, it's not acceptable," said Bryant.
While the teacher was screaming at him, she also said that "if she had something, she would have thrown it at him."
Tamarion was just recently hospitalized for seizure-related activity, which included memory loss and hallucinations, something the teacher had apparently not known.
Wilson and Bryant met with the teacher and the principal, where the angry mother asked the teacher why she had thought it appropriate to threaten her son.
The teacher insisted it had only been a joke. Wilson requested from the principal that her son be moved to a different class with a new teacher instead.
"If it happened to my son, I'm pretty sure if not a week, a day, a month, a year, it will occur to somebody else's child," Bryant said.
Please fill in your e-mail so we can share with you our top stories!