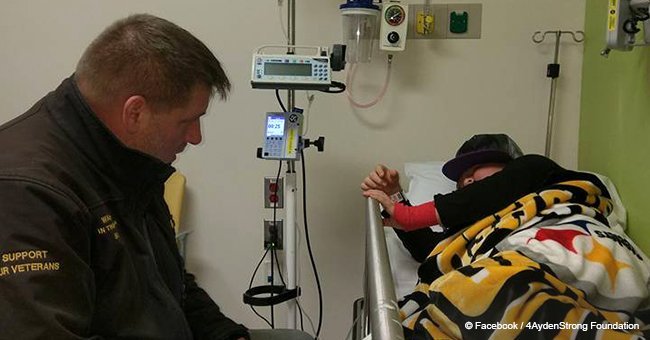 Dad makes tearful promise so son can let go
Bill Kohler, a former medic with the Armed Forces, had devoted his life to helping others but was left feeling helpless when his nine-year-old was diagnosed with cancer.
Kohler, who now lives in York, Pennsylvania, found out that his on Ayden had not one, but two tumors in his brain, 2016.
The father began documenting his son's life on his Facebook page, 4AydenStrong Foundation.
Read more on our Twitter account @amomama_usa.
Ayden had one tumor in his brain stem, and one in his cerebellum and doctors told Bill that his son would only survive for the next eight to 12 months, ShareTap reported.
Devastated by the news, Kohler, now 49-years-old, did all he could to battle the disease and spent the first month after Ayden's diagnosis trying to get him into as many clinical trials as he could. Simultaneously, Ayden was getting the standard treatments from Hopkins University.
The people from Kohler's community came forward and helped in the cause, and Ayden's football team started a GoFundMe page to help raise funds for the boy's treatment.
When nothing worked out in his favor, Kohler decided that he would concentrate on making sure that the few remaining months of his son's life would be spent on doing things that Ayden loved the most.
The father and son duo came up with a wish list that included a lot of fun things that Ayden wanted to do.
They went fishing in Florida, and Auden caught a 47-inch hammer jack, he had been a guest basketball player for Penn State and even met coach for the Pittsburg Steelers, People reported.
Ayden got to meet WWE stars and FaceTimed with celebrity chef Guy Fieri, as Ayden was a massive fan of the Food Network, among other things.
It was then time to face reality when Ayden grew weaker with each passing day, and he was unable to walk, eat or even breathe well.
It was during this time that he finally told his father that, "Dad, I gotta quit." Ayden passed away on March 22, 2017, when he was 10-years-old.
Kohler, a soldier himself, told the York Daily Record, that his son had fought as hard as he could and there was not much left in him to fight any longer. He said that Ayden fought for seven months and seven days after his diagnosis.
A mother and BBC presenter, Rachael Bland, revealed the saddening moment when her doctor told her that her cancer was back and that it was terminal.
Bland posted a video on her Instagram account which was a part of podcast she had with other women. In the video, she spoke about her experience with cancer and also gave a special message to her son.
The Times reported that Bland wanted her two-year-old son Fred to know about her life while he grew up and so she decided to write a memoir through which her son could remember her.
In related news, Garett Matthias, diagnosed from terminal cancer, wrote his own obituary in which he made unique kind of requests for his funeral.
Five-year-old Garett Matthias from Van Meter, Iowa, was diagnosed with a rare type of pediatric cancer. He passed away on July 6, 2018, WKRN.com reported.
He took the help of his parents to write the obituary. He wrote in detail about the things he loved and also about the things he did not.
His loved superheroes like Thor and Batman and disliked needles, pants and getting sick.
His parents were devastated with the death of their son even though they knew that one day he would have to leave them behind.
Please fill in your e-mail so we can share with you our top stories!