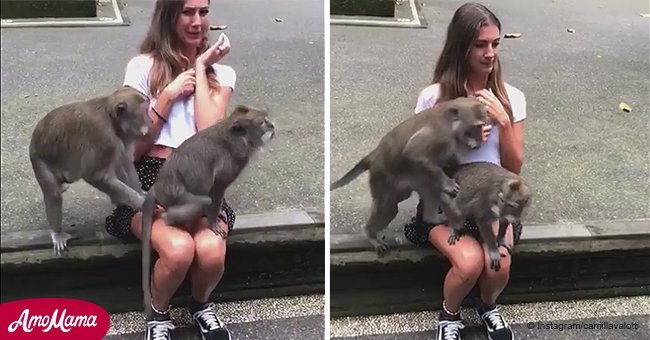 Monkeys mating on woman's lap get too close for comfort
A young woman living in Bali had an unusual experience when she visited the forest in the hopes of seeing some monkeys, and got far more than she bargained for.
The woman, who goes by the name camillavalotti on Instagram, took to the social media site to share video footage of her up close and personal experience in the forest.
She had sat down on a low wall in the Sangeh Monkey Forest, located close to the Sangeh village, when she seemingly got exactly what she had been looking for when a monkey jumped straight up into her lap.
Although momentarily delighted, her reaction quickly turned to shock when another monkey joined them, presumably a male, and started to mate with the first monkey, right there in her lap.
She seemed wholly unprepared for the intimacy she was suddenly rather integral to, covering her eyes and face in mortification as the pair went at it.
Fortunately for her, their frisky session didn't exactly last very long, with the male dismounting from the female just a few seconds later, hopefully to go find a more private mating ground not in an unsuspecting tourist's lap.
Throughout the video, the girl's friends filming the clip couldn't help but laugh at her, especially when the shocked expression first crossed her face as she realized what was happening.
The video, filmed just over a week ago, has been viewed over 60,000 times, and has just fewer than 3,000 likes. Plenty of people that took to the comments section shared nothing but laughing emojis, demonstrating just how funny the awkward encounter was.
"Monkeys love me too much," she wrote in the caption, adding a "#threesome" and "monkeypregnant" hashtag to her post.
Please fill in your e-mail so we can share with you our top stories!