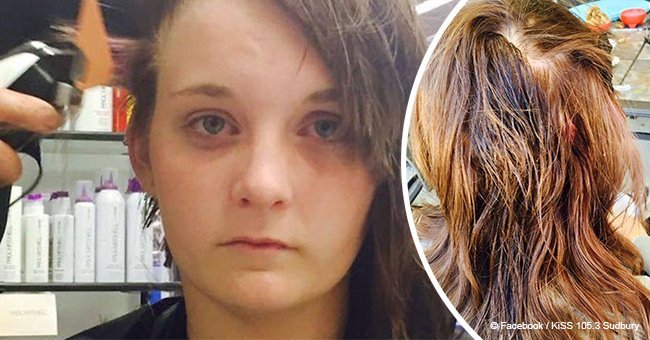 Bullies pour super glue on teen's head, but she shaves head into beautiful hairstyle
15-year-old Hannah Combs flaunted her new stylish hairstyle as a response to the bullies who poured super glue over her head.
According to Little Things, the teenager was starting her freshman year at Harker Heights High School when a boy came up behind her and poured all the super glue over her hair and scalp.
Hannah explained her experience by saying, "It instantly started burning. It felt like my head was on fire. It was horrible."
Following the incident, the boy was given an in-school suspension. However, the punishment given was not enough for the girl's father, Christopher Grimmer, who is a retired soldier. He was furious at the school.
Follow us on Twitter to learn more.
"I'm not going to pull my daughter out and uproot her from her life because of what this kid did to her," Grimmer explained to the source. "That child that did this to her, uproot his life. He gave up the opportunity to go to Harker Heights when he committed the act."
Grimmer also took his daughter to urgent care where she was diagnosed with first degree burns. Hannah and her mother, Jessica, then decided that cutting her hair was in her best interest.
Hannah stated that her hair was her most favorite thing about her which she had lost. She was disheartened because she felt it was the only thing she liked about herself, and now it was lost for "no reason," she told Little Things.
The teenager then began a Facebook page to share her story and encourage people to stand up for themselves against the bullies.
One of the local hairstylists, Nikki, came across the Facebook page and decided that she would like to help Hannah by transforming her hair for free.
She got hold of her and volunteered and finally gave a stylish new look for her hair even though it had to be shaved on one side.
Here is another story about a remarkable hairstyle transformation of a woman, who hadn't cut her hair in almost 30 years.
Please fill in your e-mail so we can share with you our top stories!