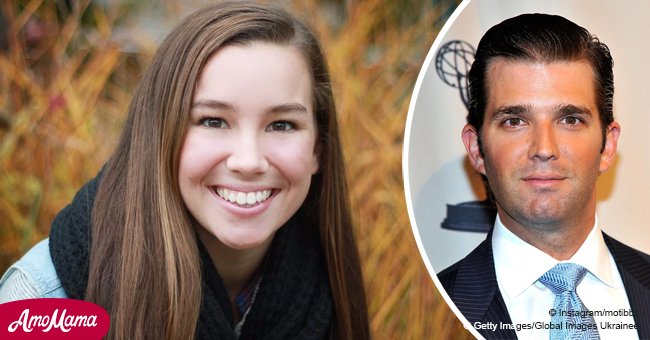 Donald Trump Jr. uses Mollie Tibbetts' death in political agenda despite pleas from her family

On Friday, Donald Trump Jr. wrote a guest post on Des Moines Register, blaming 20-year-old Mollie Tibbetts' death on Democrats' love for open borders.
He said Democrats are "more concerned about protecting their radical open-borders agenda than the lives of innocent Americans."
The President's son also added that Tibbetts wouldn't have died if America had stricter immigration laws. Read more on our Twitter account, @amomama_usa.
Trump Jr. wrote that Democrats' reaction to her death was "despicable," despite ignoring her family's request that politicians leave Mollie out of their political debates and agendas.
Mollie's father retaliated to Trump Jr.'s article, penning his own piece which was published on Saturday, in which he once again asked politicians not to "distort her death to advance racists view."
Her father, Ron Tibbetts, said in Mollie's eulogy that she was "nobody's victim, nor is she a pawn in others' debate." Several politicians have heeded their request while others, like Trump Jr., callously ignored it.
Ron wrote: "They have instead chosen to callously distort and corrupt Mollie's tragic death to advance a cause she vehemently opposed."
He added that Mollie viewed the Trumps' stance on immigration policy as "profoundly racist" and that her death is no way a reflection on the Hispanic community.
"The person who is accused of taking Mollie's life is no more a reflection of the Hispanic community as white supremacists are of all white people."
He also offered an apology to the Hispanic community who have "been beset by the circumstances of Mollie's death," and said the Tibbetts family value their "contribution to the American tapestry."
Ron believes that knowingly sowing discord among races "is a disgrace to our flag" as it "lends legitimacy to the darkest, most hate-filled corners of the American soul."
Referring to the current Head of State, Tibbetts said sowing discord is the opposite of leadership and the opposite of humanity; it's heartless and despicable.
True to form, a white nationalist party known as Road to Power has since taken to the airways spreading messages with racist undertones.
They referred to Mollie's murderer as "an invader from Mexico," and a "biological hybrid of white and savage Aztec ancestors."
Ron concluded his letter by asking once again that politicians and the public allow them as a family to grieve in private, but whether the Trump family will take note remains to be seen.
Mollie's cousin, Sam Lucas, also defended her name online when politician Candace Owens said "leftists" who cried about children separated from their parents at the border won't do anything for Mollie.
Sam said: "Hey I'm a member of Mollie's family and we are not so [expletive] small-minded that we generalize a whole population based on some bad individuals."
Her aunt also spoke out and reminded netizens that "evil comes in every color" and added that the Tibbetts family "has been blessed to be surrounded by love [...] by friends from all races."
Please fill in your e-mail so we can share with you our top stories!