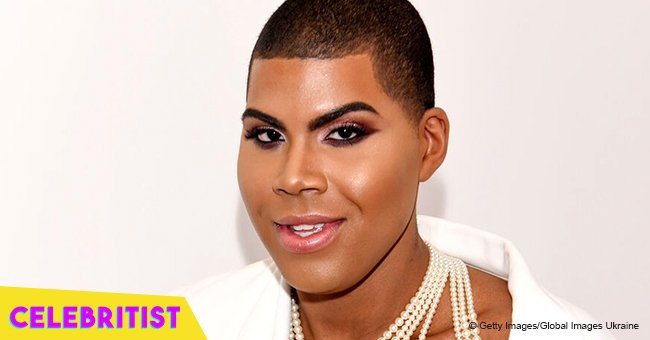 Magic Johnson's son EJ goes blonde in red T-shirt in recent photo
EJ Johnson is not afraid of showing his most feminine side to the world, and while his outfit choices are considered "girly" enough for some people, the reality star and fashionista recently took a step forward by rocking a blonde wig in an Instagram post.
The son of former NBA star Magic Johnson came out as a gay man in 2013, and since then, he has become a fashion icon for people that consider clothes as genderless. He often rocks skirts, crop tops, high heels and dressed without a shame. His fashion style is a way of expression, and he's both loved and hated for it.
While most people thought EJ couldn't get more "girly," he proved everyone wrong with one of his latest Instagram posts. In the pic, the 25-year-old is rocking a blonde wig, a ripped red t-shirt, and heavy make-up with eyeliner and lipstick to bring out his facial features.
"She can do both #teamthis," he captioned the photo.
Fans immediately took over EJ's comment section to share their thoughts on his look, and while some haters and trolls made their home in the comment bashing the young man for his choices, most people were supportive.
One user wrote "Omg I totally love it. Mega please keep it blond," another added, "Yasss. Doing the most. Blondes do it best," and a third one agreed "It's 2 types of ppl in this world. It's EJ, and there's everyone else #SnatchMySoul."
EJ is currently dealing with a personal loss after one of his best friends, Lyric McHenry, died a few weeks ago from an alleged overdose.
The woman was found unconscious and without her pants on a sidewalk in New York City, hours after she celebrated her 26th birthday. McHenry was EJ's co-star on his reality shoe "EJNYC," and according to authorities, she was 20 weeks pregnant, even though is not clear if she was aware of that fact.
While EJ didn't celebrate Liryc's birthday with her, he sent her a heartfelt message through an Instagram post, proving how much love and respect he had for her. He wrote:
"Your constant love, respect and companionship gives me the confidence to live my truth every single day and I am so blessed that even as baby divas we recognized the greatness in each other. I love you."
After the news of McHenry's death, EJ opted to keep silent on social media, never mentioning his friend as he kept on posting his usual sultry pics on Instagram. This caused fans to slam the star for appearing to be indifferent and disrespectful to his friend's death.
However, EJ addressed the issue on his comment section, making it clear to everyone that he needed space to mourn in his way. He wrote,
"I'm going to make this clear to everyone there will be no mourning post because I'm not going to reduce a 25yr friendship to 1 Instagram post. Please respect my privacy and my process."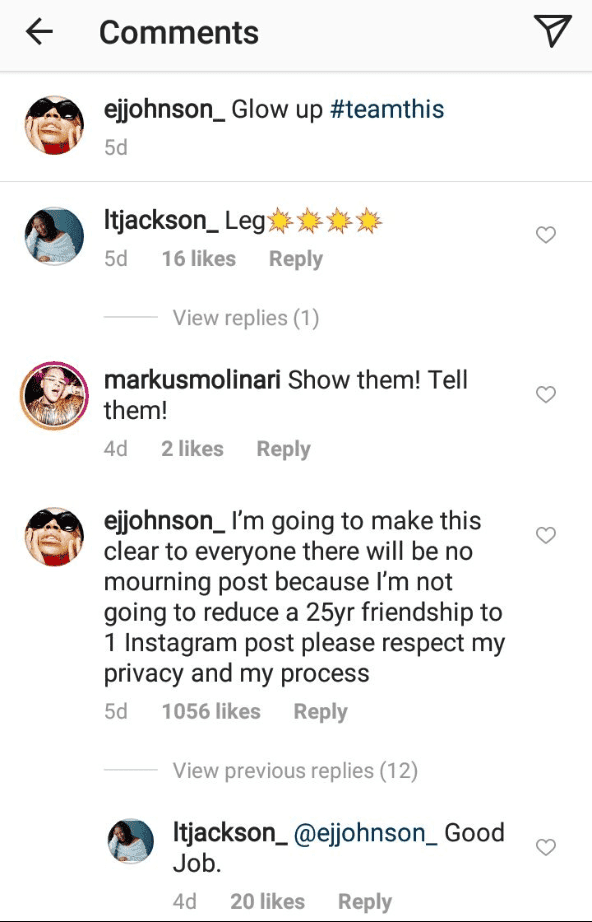 Credit: Instagram/ejjohnson
EJ keeps on defying society's standards when it comes to gender, and he has the support of his entire family, who couldn't be prouder of EJ's effort to make the world a better place where people can be accepted by being themselves no matter what.
Please fill in your e-mail so we can share with you our top stories!