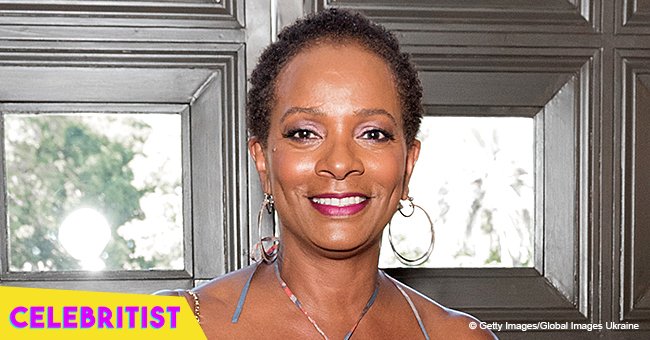 Vanessa Bell Calloway stuns in glittery wedding dress in video from 30th anniversary vow renewal

Vanessa Bell Calloway glittered in gold as she renewed her vows with her husband of thirty years in a video her good friend Tina Lawson shared from the occasion.
Last year, she celebrated her 60th birthday with a lavish and star-studded bash. This year, Vanessa Bell Calloway stunned in a golden dress celebrating her 30th wedding anniversary with her husband Tony Calloway.
Tina Lawson was among the guests who attended Vanessa's renewal of vows with her longtime husband and she described it as "absolutely beautiful." In a video Beyonce's mother shared, Vanessa was surrounded by her lovely daughters, Ashley and Ally as she and her husband listened to Judge Mathis who officiated the ceremony.
Vanessa flaunted her legs in a long glittery gold dress that had a thigh-high slit. The dress was a bustier allowing the actress to showcase her toned arms and shoulders. Vanessa's short hair highlighted her golden features as she held a bouquet of white flowers standing next to one of her daughters.
Her husband stood across her wearing a gray suit. Their other daughter stood next to him wearing a short gold dress identical to her sister's. The family of four laughed and joked with the judge who kept the ceremony light and entertaining.
"This is one of my favorite couples Miss Vanessa Bill Calloway and Mr. Tony Calloway." Tina wrote to begin her caption before providing more details about the affair.
"Last night we had the honor of watching them renew their 30th anniversary wedding vows ! It was absolutely beautiful. Here they are handsome Judge Mathis is officiating the ceremony.Those are Vanessa and Tony's beautiful killer legs having two daughters Ashley and Ally"
Vanessa, who is a cancer survivor, turned 60 last year and she dared to defy her age by throwing a "Sexy Sixty" celebration with a dose of comedy. She arrived at the venue wearing a pair of skintight black fitted pants and a knitted grey and black top with one shoulder exposed. Her friends lauded her for looking so young as she entertained them with her own comic routine for the first time.
Stars were amazed at Vanessa's comedic skills and were even more impressed when she ended her routine with a full Yoga split. It brought the house down.
While Vanessa could easily laugh off herself today, she wasn't as cheerful many years back when she discovered she had breast cancer. In 2015, she opened up about how she survived the disease. She was 52 when she was diagnosed with stage zero breast cancer. After previously undergoing two lumpectomies to remove the tumor in her breast, doctors discovered it wasn't enough so they decided on a mastectomy. This upset Vanessa who couldn't imagine letting go of her breasts. But she went through with the procedure and had her breasts reconstructed. She's been cancer-free ever since.
Vanessa has a lot to celebrate with her illness out of the way, and her marriage still blossoming after thirty years. She shares her blessings with others by taking part in their own celebration of joy. Last year, she was one of the guests who joined LL Cool J and his wife Simone Smith in celebrating their daughter's wedding. Italia Smith wed her now-husband Lamar Cardinez on the eve of Father's Day. Italia's proud parents commemorated the occasion by sharing photos from the occasion. A year later, Simone paid tribute to the couple on their anniversary as she shared a photo of them with their brand new baby.
Please fill in your e-mail so we can share with you our top stories!