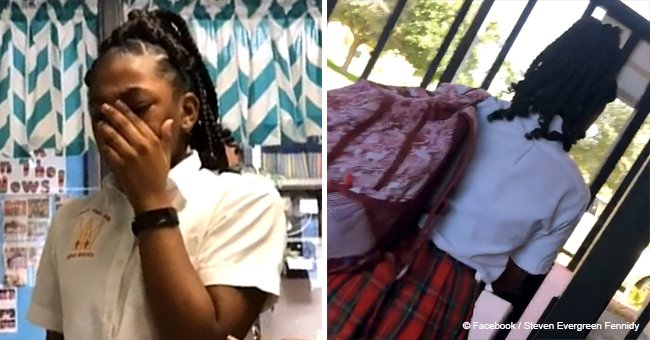 African-American girl brought to tears after being told to leave school because of her hair
A Catholic school is receiving national attention after it sent a young girl, Faith Fennidy, home because she had hair extensions.
Steven Evergreen Fennidy shared the video of his sister crying when she was asked to leave her school premises by the authorities because of her unnatural hair. The video was uploaded to Facebook on August 20, 2018.
Faith, a sixth grader from the Christ The King Elementary School in Louisiana, had braided hair extensions and according to Steven's post on the social networking site, several other African-American girls wear hair extensions.
Read more on our Twitter account @amomama_usa.
Steven captured the video of his sister crying at the school, while the teachers and family can be heard having a heated discussion regarding the policy, which the school said was informed to all the parents over the summer and also on the first day of the school.
The older brother said that the school's policy on hair is a "barrier to entry for black people," and he accused the school of "sneakily" including the new rule in its handbook for the new school term.
"My sister Faith and many little black girls wear extensions. She's been attending this school for two years and wearing extensions. Over the summer the school has sneakily added in a policy, that no extensions, clip-ins or weaves are allowed."
Steven Evergreen Fennidy, Facebook, August 20, 2018.
In the video, her father can be heard saying, "Look at my daughter," to which a woman replies, "I know, I don't want this to happen."
Another woman can be heard asking, "What's wrong with her hair? Her hair is fine."
According to 4WWL News, the elementary school's handbook for parent-student says that only the natural hair of a student is allowed and extensions, wigs, and hairpieces of any kind will not be permitted.
The family members of the sixth grader spoke to the news outlet and claimed that Christ the King Elementary School had not informed them about this new rule which they say was brought into effect this summer.
The video ends with the Fennidy family leaving the school along with Faith and getting in their car. Faith's brother wrote in his post that the school is not able to justify the reason for implementing the rule and felt that it was unfair to African-American girls.
In a statement to NOLA.com, Archdiocese of New Orleans, Superintendent RaeNell Billiot Houston, said schools make policies that are "appropriate for their respective schools" and that "only the students' natural hair is permitted."
According to Nola.com, Faith's mother, Montrelle Fennidy, confirmed on August 21 that her daughter will no longer attend Christ the King Elementary School in Terrytown and added that her family had started looking for a new school for the girl.
A
video which went viral
on Twitter showed a white woman calling the police to report a young girl selling water in front of an apartment building, and the woman claimed the girl was selling the water without a permit.
A woman posted a video on her Twitter account on June 23, 2018, which showed the woman making the call to the police.
The woman said that it was her cousin who had set up a stand in front of her home, across the street from AT&T Park while a San Francisco Giants baseball game was going on.
Another woman's hairdo that had remained the same for more than three decades was making her feel much older than what she felt inside.
Her daughter's shared that their mother, Joan Irvine, had been wearing the same beehive hairstyle for last 37 years and had become reluctant to change it later on, according to Shared.
However, Irvine got a remarkable makeover on the Oprah Winfrey show.
Please fill in your e-mail so we can share with you our top stories!