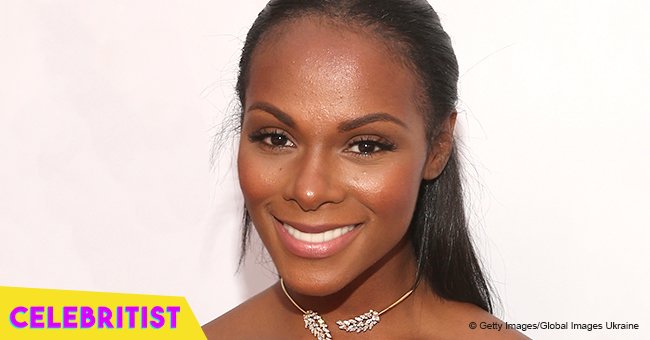 Tika Sumpter stuns with her post-baby body in yellow top & tight black pants in pic
Tika Sumpter is looking more fabulous than ever in a recent pic shared to her Instagram account while she's in the middle of shooting her newest project, a film based on the Sega video game, "Sonic The Hedgehog."
The "Haves & Have Nots" star exudes happiness in her most recent Instagram photo, donning a yellow top, black pants, and a denim jacket while spreading her arms wide posing in the middle of a room with many cameras pointing in her direction.
"Is one camera really enough? Nahhhh. #sonicmovie #sonicthehedgehog," the actress captioned the pic, giving fans a sneak peek into the detailed filming process for the movie, which is set to be released next year.
Tika's fans flocked her comment section to show their support and anticipation for the movie and also, of course, to give her some praises on her look. One fan wrote "Love you, I can't wait till it comes out, I support every movie you're in," another added, "I have so many questions....ughhh, but love this picture," and a third one said "Nope we need to see everything with yo talented self."
Sumpter will be sharing screen credits with "Westworld" star James Marsden, comedian Jim Carrey and "Parks & Recreations" star Ben Schwartz, who will be giving his voice to Sonic. The film, according to Variety, will be a hybrid of live-action and CGI, and fans of the '90s video game have high expectations of it.
While Tika works on this project, she has been counting with the support of her fiancé, actor Nicholas James, to take care of their adorable daughter, Ella Loren.
TIKA SUMPTER ON HER POST-BABY BODY
After giving birth, Sumpter made sure to share with fans the process of recovering her pre-baby body, but instead of selling some unrealistic expectations, the 38-year-old beauty opened about the real struggles a mother goes through after giving birth.
She took to Instagram to share a side to side pic of the before and after of her body after giving birth and took the caption to encourage new mom to make their recovery process easy and not rush their bodies as they have to heal.
She wrote:
"I must say the pressure to "snap back" was secondary to being present for my baby. Every story I hear about moms feeling the pressure of getting there body's back breaks my heart. Being a new mom or a mom, in general, is A LOT! You're still healing even after 3 months. You have to do what's right for you."
And continued:
"You just did the most miraculous thing ever by pushing a human being out of your body! Be gentle w yourself (genetics also play a role). Know I'm rooting for you, and I too am now ready to lose this last bit of weight. What's most important is happy mommy, happy baby. Don't allow the pressures of magazines to pull you in."
Tika is living one of the greatest moments of her life, both professionally and personally, and she's glowing more than ever.
Please fill in your e-mail so we can share with you our top stories!