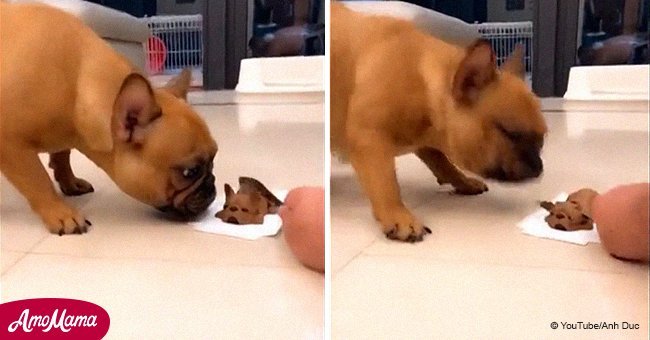 Bulldog has hilarious reaction to see owner cut into a dog-shaped cake

A new viral video is sweeping across the internet and delighting netizens from all around the globe.
The video was initially posted from Guangzhou Shi, China, to News Flare earlier this month, and shows a bulldog puppy in turmoil.
The dog's owner presented it with a dog-shaped cake but cut into the cake with a spoon while the dog was busy licking it.
Read more on our Twitter account, @amomama_usa. The adorable footage can be seen further down.
The poor pooch began to whimper and then ran away, terrified, before hiding around the corner at the far end of the room.
And with good reason too, as it looked as though his owner cut off the head of the very realistically looking cake with the spoon.
Perhaps the French bulldog thought the cake was a real puppy or perhaps he just didn't like his owner messing with his food.
Either way, the footage is hilarious and is sure to light up a dull day as pictures of cute animals often do.
Just a few days ago, another dog took the internet by storm when his owner uploaded his hilarious reaction to being cuddled.
Mr. Bubz is a rescue dog and not used to affection, which would explain his strange reaction to getting a hug from his new owner.
Bubz's owner can be seen hugging him while the concerned pup sits rigidly in his arms, eyes wide with terror.
His owner, James, then plants a kiss on the Bubz's cheek, which the dog greets with a snarl before his eyes bulge again with fright.
The video ends with Bubz giving another nasty snarl when is owner says: "Yeah I got you, I got this on camera."
A female Border Collie named Kirk, on the other hand, has no trouble displaying her emotions and was caught on camera watching herself on television.
Kirk was entered into the Incredible Dog Challenge Western Regionals and jumped up and down excitedly when the footage was shown to her. Watch the adorable footage here.
Please fill in your e-mail so we can share with you our top stories!