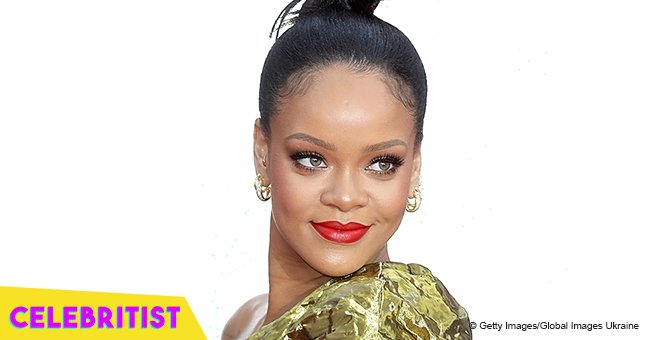 Rihanna stuns in vintage pink floral blouse and black briefs on 'Garage' magazine cover

Rihanna's brand new magazine cover has an old feel and she's totally rocking it. Fans are appreciative but are clamoring for more from the singer.
Apart from Rihanna's ever-evolving music, she's also a style star who isn't afraid to try new things. Her latest cover look for Garage magazine is yet another testament to her adventurous nature.
Carlos Nazario, who styled the singer for the cover of the publication's 15ththissue knew that Rihanna was a celebrity who always had to wear something new.
"I felt like it wasn't that exciting for her to only wear things that I'm sure she's familiar with, you know?"
Thus, Nazario decided to channel a vintage vibe for Rihanna by making her wear a pink rose bolero from the 60's. He matched it with black Dolce & Gabbana briefs, a pair of Y/Project stilettos and a necklace from Tiffany's. The singer fashioned extremely long colorful nails and kept her hair long and straight. With Dean Lawson handling photography, the result was another masterpiece cover only Rihanna could possibly pull off.
Though fans loved the singer's latest look, many were disappointed to find out the cover was for a magazine and not an album. It's been a while since she's released new music and fans are getting impatient as evident in some of the comments they wrote on The Shade Room's feature of Rihanna's Garage look.
"When you double tap quickly because you thought you were looking at a new album cover only to realize it's a new magazine cover. Where's the music, sis? @badgalriri,"
"Look flawless in the studio girl, cause WE NEED MUSIC."
"I'm actually getting tired of her playing around and not releasing an album. She's doing everything except what we need her to do. Like, we don't need any more magazine covers, @badgalriri , we know you're beautiful, we know you have style, we know @fentybeauty is #everything What we need is for you to put down the makeup brush, or you know what, HOLD the makeup brush, we don't care. Just give us some music. I'd settle for a one-minute snippet. Just let us know you're planning on releasing something soon. This is actually so frustrating.."
It's been two years since Rihanna released a full-length album which explains why fans are clamoring for one. However, reports suggest two albums are currently in the works, one is a pop-oriented record and the other is a dancehall-style LP. Meanwhile, the singer is busy filming a movie with Childish Gambino. They were recently spotted bonding in Cuba for the film, "Guava Island." No further details have been provided concerning the new movie but it reportedly also stars Nonso Anozie and Letitia Wright.
Please fill in your e-mail so we can share with you our top stories!