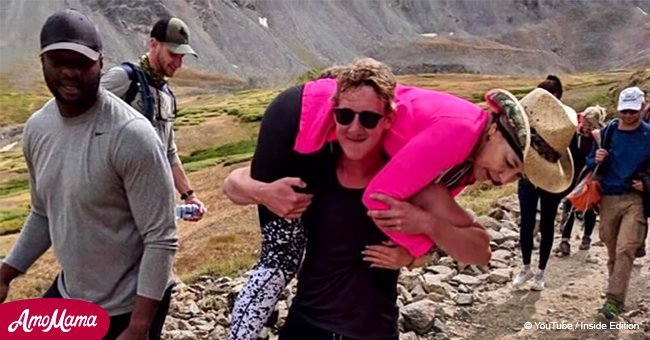 Strong stranger carries a woman down the mountain in his arms
Respect to this real man!
Having the help of a stranger is a great thing but what's even greater is having a strong stranger carry you by slumping you over his shoulder and taking you down a mountain in his arms if you cannot do it yourself! This was the fate of 55-year-old Beverly Wedelstedt.
Beverly who had gone hiking with friends collapsed at the top of a 14,000 feet summit in the Rocky Mountains after sustaining an injury.
"There was this step — like 2 feet tall — and it's a rock so you have to step down. I put my poles down, and I put my right leg down, and I jumped with my left leg. I heard this pop ... you'll never forget the noise."
Beverly Wedelstedt, Inside Edition, August 30, 2018
Luckily, a group of strangers saw her fall and rushed to her assistance immediately. One of them, a young man who identified himself as being in the military was on hand to render assistance and get her down after repeated attempts to help her up prove futile.
"One gentleman says, 'I'm military. Are you comfortable doing a fireman carry? I'm going to throw you over my shoulder.' I'm thinking, really nice kid, good looking, I weigh 160 pounds and he wants to do this? He's like, 'Yes, ma'am, I'm active military.'"
Beverly Wedelstedt, Inside Edition, August 30, 2018
He slung her over his shoulder with her leg supported by a makeshift splint and carried her for 200 yards. Other guys who were present offered to learn the fireman carry themselves so they took turns and helped him carry her the remaining 2.5 miles down the hill.
"It was the most amazing thing I've ever seen."
Beverly Wedelstedt, Inside Edition, August 30, 2018
Later at the hospital doctors confirmed that she had torn her ACL (Anterior Cruciate Ligament) and meniscus.
A similar story which touched the hearts of many was that of Gregory Johnson. Gregory noticed a sad, elderly man in an Indiana grocery who had red roses and a birthday cake in his shopping wheelchair. On approaching the man he found out that the man had kept the tradition of celebrating his wife's birthday even though she died five years ago.
After talking to the elderly man for an hour and a half he was able to cheer the man up.
Surely this shows that kindness and helping the elderly are not overrated and nice people do exist!
Please fill in your e-mail so we can share with you our top stories!