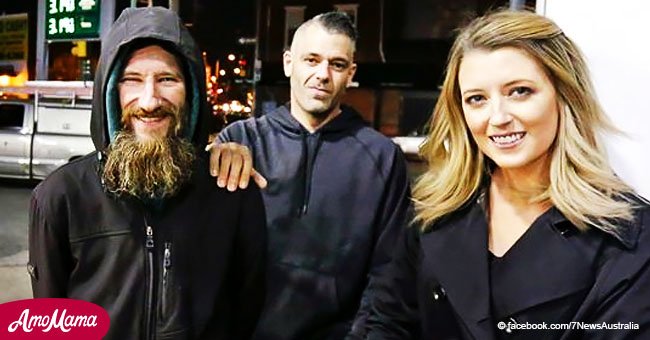 Homeless veteran devastated after couple who raised $400,000 in his name spent it all themselves

Late last year, Kate McLure was stranded away from home when she ran of gas.
A homeless veteran named Johnny Bobbitt gave her his last $20. To thank him, she created a Go Fund Me account, hoping to raise some money for Bobbitt to get him off the street.
The campaign was a success, and 14,000 people raised more than $400,000 for Bobbitt. Sadly, Bobbitt never got his money and claimed McLure spent it all.
McLure and her boyfriend, Mark D'Amico said they bought him a trailer and second-hand SUV, as well as a laptop, cell phone and other necessities.
They also gave him $25,000 but claimed that he spend it all on drugs. McLure and D'Amico then decided to keep control over the fund, saying Bobbitt couldn't be trusted.
The couple told Megyn Kelly on her show that they didn't spend a single dime on themselves and said there was approximately $150,000 left after all Bobbitt's expenses.
When the case gained media traction, GoFundMe also intervened, and a judge was sympathetic to Bobbitt's case. Read more on our Twitter account, @amomama_usa.
The couple was ordered to hand access to the fund over to Bobbit. To his shock, Bobbitt and his lawyers found that the fund was depleted.
They have since asked for an investigation into the couple's records to ascertain what happened to his money.
It was noted that McLure and D'Amico went on trips to Las Vegas and Los Angeles and that they purchased a new car.
This is not D'AMico's first run-in with the law, and he had been previously arrested for traffic violations. He also took $500 from another GoFundMe account, but D'Amico's said he returned the money.
While the outcome of Bobbitt's case is still uncertain, students from Atlanta proved that there are still good people in the world when they helped a veteran couple get off the streets.
The students built a "tiny home" for Eddie Browning and his wife, who only had a dilapidated trailer and couldn't afford to repair it.
The students have pledged to continue their good work and donate a tiny house every year.
Please fill in your e-mail so we can share with you our top stories!