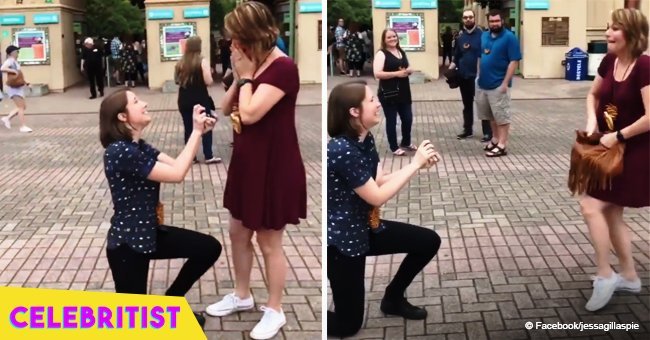 2 young women surprise each other with double proposal in viral video

Jessa Gillaspie and Becky McCabe surprised each other in the most adorable way in the Memphis Zoo about two years after their first date. The video went viral in no time.
In the clip that Jessa uploaded to her Facebook page, she appeared wearing a burgundy dress and white shoes posing in front of the park's popular Zoo and Aquarium.
Becky was next to her wearing tight black pants, black shoes, and a dark blue and white shirt. They were supposed to be posing for a photo, but it was actually a video.
Even before flashing their smiles for the camera, Becky's hand is seen grabbing and hiding something behind her. After that, Jessa tried to go get her purse, but Becky wanted to get another "picture."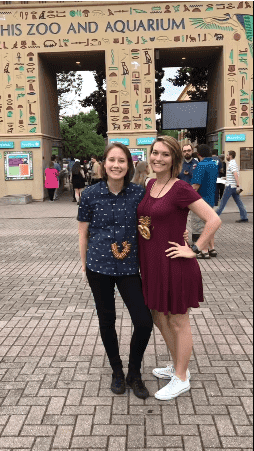 Source: Facebook/Jessa Gillaspie
SURPRISE!
Once they were facing each other, Becky kissed Jessa, started talking to her, and then kneeled down to give her a ring. Jessa was clearly excited as she covered her face and began jumping toward her purse.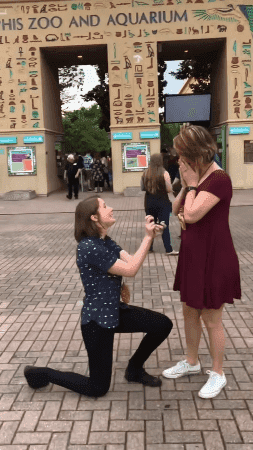 Source: Facebook/Jessa Gillaspie
DOUBLE SURPRISE!
Neither Becky nor the person who was recording the proposal understood what Jessa was doing. A few seconds later, the woman pulled out a small box from her purse: it was also an engagement ring.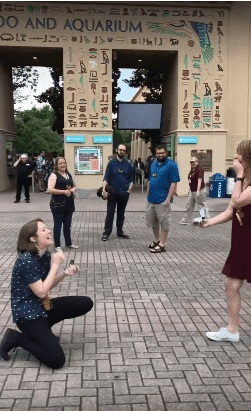 Source: Facebook/Jessa Gillaspie
After laughing and crying for a while, they realized that they "just proposed to each other." The video went viral in no time and now, almost three months after Jessa uploaded it, it has more than 2 million views, and it has been shared more than 22,000 times.
THE PLACE WAS ALSO VERY SPECIAL
People reported that the couple met each other as grad students at the University of Memphis. Two years before their proposals, they had their very first date at the Memphis Zoo, where they opened up about their feelings for each other.
ANOTHER CLEVER PROPOSAL
YouTube personality Tyler Stafford asked his girlfriend's family to join them in what she thought it was a carpool karaoke battle but, in fact, it was his marriage proposal.
The best aspect of it was that they sang most of the time and Tyler included the woman's family as much as possible.
Please fill in your e-mail so we can share with you our top stories!