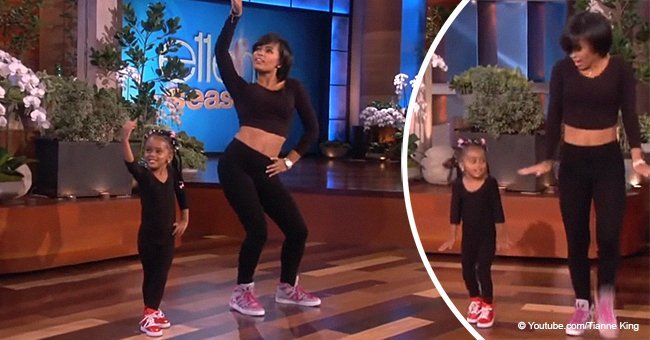 4-year-old and her mother set the dance floor on fire with energetic dance to Beyoncé's '7/11'
Fierce dancer Heaven King became famous when she was only a 4-year-old following her mom's dance routines. The girl recently celebrated her birthday, and she took a trip down memory lane remembering the first videos that turned her into a star.
Tianne King is a dancer, instructor and proud mother of daughter Heaven. The girl recently celebrated her 8th birthday, and for her followers is hard to believe how fast time has flown. It seems like yesterday that her performance of Beyoncé's "End Of Time" became a viral video on the internet.
She was three back then, and according to Tianne, little Heaven just stood up and started to learn the choreography she's was teaching to some teenagers as if it was nothing. That's when Tianne realized her daughter would be following her steps.
The duo was invited to "The Ellen De Generes Show" where the adorable tot got to perform in front of a live audience the choreography, winning the hearts of people from all across the country. A few months later, they went back to the show, and this time did a rendition of Beyoncé's "7/11."
Heave was already a fierce and confident dancer back then, and four years later, her attitude and dance skills have only got better. She's now the star of her own YouTube channel, where she regularly shares produced videos of her dances with friends, with her mom and sometimes alone.
She's also learning how to be a dance instructor, doing tutorial videos with Tianne, and is even doing interviews and attending events like a real superstar.
Just a few weeks ago Tianne and Heaven got the chance to be on Power 105 radio show where they got to discuss all the success that has come for them in the past years.
From national commercials to starring in Silentó's music video of the hit song "Watch Me Whip," the mother-daughter duo keeps on making power moves in the industry.
Another talented girl who's making the rounds on social media for her dance skills is Aaliyah, who recently owned the dance floor at her school dancing aboard a hoverboard to the "Little Einsteins" theme song.
Like Heaven, Aaliyah was also part of a famous hit song fever. She was featured on rapper Plie's Instagram page dancing to his hit song "Rock," and she killed it.
Please fill in your e-mail so we can share with you our top stories!