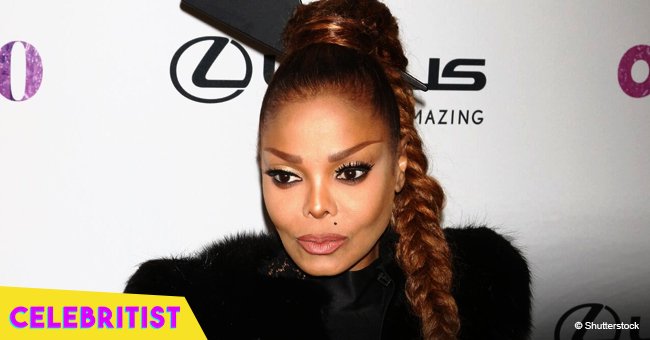 CEO of CBS was reportedly obsessed with destroying Janet Jackson's career after Super Bowl

Exiting CBS head honcho who's been recently accused of sexual harassment was reportedly determined to ruin Janet Jackson's career believing the singer showed no remorse following her 2004 Super Bowl "wardrobe malfunction."
Following news of CBS CEO Les Moonves's nearing departure from the station amid sexual misconduct allegations, the Huffington Post released a feature on the embattled entertainment honcho highlighting his alleged grudge on Janet Jackson after her unfortunate "wardrobe malfunction" during her 2004 Super Bowl Halftime show with Justin Timberlake.
Moonves reportedly obsessed over exacting revenge on Jackson for years after she displayed a lack of remorse following the famous incident where the singer's breast and nipple were exposed after Justin Timberlake tore a piece of fabric off her bustier as part of their act.
Claiming it was a malfunction, both singers explained Timberlake was supposed to rip away the leather on Jackson's bustier to reveal red lace but unfortunately, the whole thing came off leaving Jackson's breasts exposed to the world.
While Timberlake tearfully apologized for the fiasco, Moonves was reportedly furious that Jackson didn't also sincerely apologize to him leading him to believe she intentionally created the situation to stir up controversy.
Moonves was vocal about the humiliation he suffered after the incident which caused CBS a $550,000 fine and in his mind, Jackson wasn't repentant enough.
Irked by the Grammy award-winning singer, Moonves allegedly worked towards destroying her career. She was prohibited from performing at the 2004 Grammys which aired a few days after the Super Bowl.
It was also reported that Jackson's songs and music videos were banned from MTV and U.S. radios resulting in a huge impact on the sales of her album "Damita Jo" which was released just a month after the Super Bowl incident.
Moonves was also upset when Jackson was given a book deal with Simon & Schuster, a company owned by CBS since 2006. It's unclear if he took action against those in the company who facilitated the deal.
Jackson's career ultimately paid the price after the Super Bowl and many strongly believe Moonves had a huge hand in it. He was allegedly notorious for targeting people who ended up on his wrong side, and Jackson became one of them.
Moonves is currently facing sexual allegation charges after a report in July revealed six women accusing him of sexual harassment.
Among them, actress Illeana Douglas claimed the executive lured her to a hotel for business but made sexual advances instead and tried to kiss her.
Dinah Kirgo was invited to a business meeting but realized she was being pursued for a one-on-one dinner. After she rejected the CEO's advances, her career took a hit.
More than two dozen company employees from past and present also came forward and provided details surrounding Moonves' harassment, gender discrimination, and vengeful ways between the years of 1980 and 2000.
Following the uproar against Moonves, CBS conducted an independent investigation. The outgoing company head admitted making mistakes but denied using his power to impose wrongful acts.
Moonves is reportedly on his way out of CBS but may walk away with a $100 million exit package. He is one of the latest in a string of men in Hollywood who've been accused of sexual harassment following the explosive tell-all against film producer Harvey Weinstein last year which led to the rise of the #MeToo movement.
More than 80 women accused the co-chairman of The Weinstein Company of incidences of sexual harassment, assault, and even rape. As a result, he was fired from his own company and his wife, Georgina Chapman left him.
Weinstein was charged with various sexually-related crimes and arrested but was later released on a bail of one million dollars. He was tasked to wear an ankle monitor and give up his passport, limiting his travel between New York and Connecticut.
Please fill in your e-mail so we can share with you our top stories!