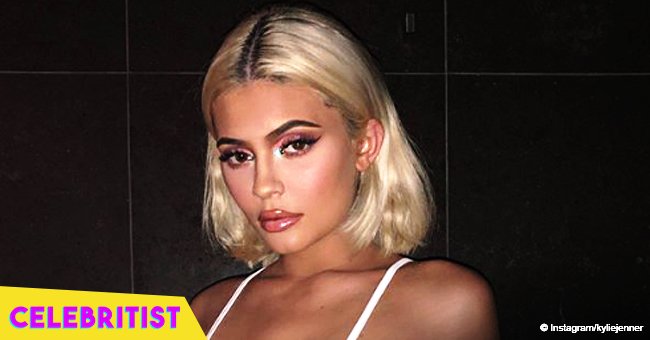 Kylie Jenner shares video of daughter dancing in her arms
Kylie Jenner is melting hearts once again with a new video of her baby girl dancing up a storm. The makeup mogul recently opened up about the changes that the pregnancy left to her body.
Little Stormi has become one of the favorite celebrity babies thanks to the adorable pics and videos her parents continuously share on social media. The tiny tot is seven-months-old and is already standing and showing some moves, as shown of Kylie's recent Instagram post.
The young mom shared an adorable black and white clip on Instagram while getting ready on her room, holding baby Stormi in her arms and filming the moment in front of the mirror. Kylie was wearing a black printed t-shirt and Stormi an overall. Jenner let her blonde strands flow down her back, and tied her baby's hair into a top knot.
Stormi can be seen bouncing and to the rhythm while hugging her mom, and Kylie couldn't contain the soft smile that took over her face while cradling her baby's back gently.
"love you so much it hurts," she captioned the lovely pic.
Fans immediately flocked her comment section with praises to baby Stormi, who keeps on capturing hearts as she grows older. One user wrote "Stormi got the dance moves already. Little ballerina," another added, "Stormi!!!!!! I wanna bite you!!! You're so cute and adorbsssss!!!! Grrrr!!!" and a third one said, "May God continue to bless your heart always and forevermore."
Back in July, Jenner opened about her pregnancy and her journey to getting back her hot body after giving birth in an exclusive Q&A she did with her best friend, Jordyn Woods. The 21-year-old admitted that while she snapped faster than most women, her body was changed in significant ways.
"I feel like people think that I like, bounce back super fast, which I guess I did and that I'm just, 'Oh, it's just, everything's so perfect,' and people like, can get the wrong idea on Instagram sometimes," she explained.
"Especially at such a young age to see your body go through such a change and it is physically, mentally and emotionally a challenge."
Kylie went on to describe in detail all the changes, insisting that even though she's bothered by them, she would have done the same thing again as long as she gets Stormi in the end. She said:
"My boobs are definitely like, three times the size, which bothers me. I have like, stretch marks on my boobs. I feel like, you know, my stomach isn't the same, and my waist is the same, and my butt's bigger and my thighs are bigger, like everything."
Please fill in your e-mail so we can share with you our top stories!