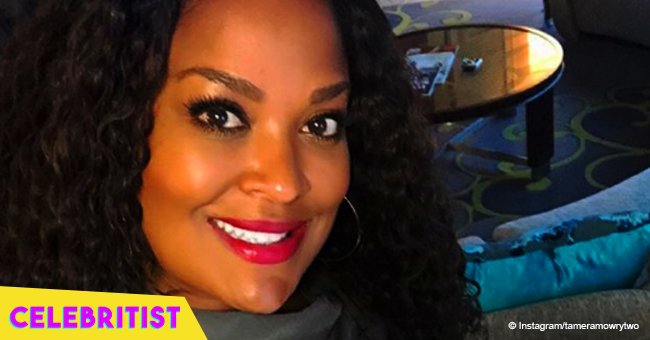 Laila Ali shares photo of husband and their two adorable children enjoying a soccer game
Laila Ali might be known as a tough boxing champion and the daughter of the one and only Muhammad Ali, but she's also a mother of two, and a smart, driven woman. She recently gushes about her kids and husband in an adorable pic.
She's better known for being the daughter of the legendary boxing champion, but she has her accolades in the industry. However, after retiring from boxing, Laila Ali has dedicated her life to raise her two kids and encourage other women to be their better selves.
She married NFL player Curtis Conway in 2007, and the happy couple is parents of two: daughter Sydney J., now 7, and son Curtis Muhammad, 10. Both kids seem to be a lot into sports, and in a recent pic shared by Ali on Instagram, they're more than ready for the new soccer season.
In the adorable shot, Curtis and Sydney are posing with their father in the sports gear. The boy is rocking a camo printed t-shirt, black shorts, shoes and shin guards. His sister went for a more colorful approach, combining and an orange t-shirt with her socks, black shorts, and white shoes.
Curtis dad looks happy to be with his kids while sitting on a foldable chair holding a bottle and donning a blue t-shirt with a matching cap, khaki pants, and white sneakers.
"First soccer game of the season today for both of my babies!! Love my family!" Ali captioned the picture.
Fans of the champion immediately took to her comment section to share their thoughts on the photo, and some of them agreed on one thing: that Laila's son looks a lot like his grandfather. Some of the comments said:
"Man!!! That baby looks just like his Grandfather! The G.O.A.T,"
"Your fathers twin back there!!!"
"Nice pic, your son looks so much like his late grandfather."
In an interview with People last year, Laila revealed that her childhood heavily influences the way she's raising her children. For example, she doesn't have nannies despite her busy schedule, and even still, she manages to balance out her professional and personal life.
She said:
"I had a whole different lifestyle than I have provided for my kids. I had nannies; my dad was traveling all the time. You can't be fighting for the world and be home for dinner with your kids. So I didn't want that same lifestyle for my children."
And continued:
"It was really important for me to be there; I overcompensate probably in that way, but I want to raise my children. It's a big responsibility to me, and I want them to grow up a certain way, and have certain values and morals, and I don't want anybody else – I want to be there for those moments."
Ali, 40, also encourages mothers to not settle with that title and go out after their goals even if they have kids. "You can be a mother and still pursue your dreams," she said.
Please fill in your e-mail so we can share with you our top stories!