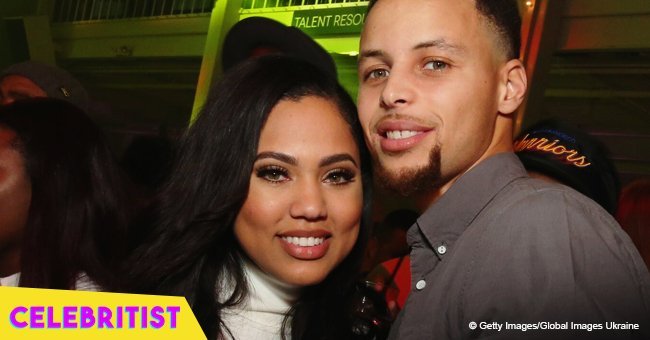 Ayesha Curry steals hearts with video of her and Steph's newborn son, flashing cute smile
The Currys are undoubtedly one of the cutest celebrity families, from the couple's loving displays to their children's antics. Now, two-month-old Canon Jack is living up to his family's legacy, as seen in Ayesha Curry's latest video.
The footage showed little Canon enjoying some "tummy time." His smooth skin and baby curls are enough to make anyone swoon.
When Ayesha coos, "You're such a big boy," as though on cue, Canon breaks into a heart-melting smile.
His besotted mother wrote in the caption:
"Mommy's lil man he loves tummy time! My Canon Jack. The past 2 months with him have been nothing short of amazing. All the women in our home are in full swoon mode. #daddysTWIN"
Ayesha, the host of "Ayesha's Home Kitchen," welcomed Canon on July 2 with her NBA champion husband, Stephen Curry. At the time, both parents took to Instagram to share their joy with fans around the world.
"On this journey, on this quest... protect me... I'm bless[ed]!" Stephen wrote.
Ayesha, on the other hand, announced eagerly:
"God has been too good to us. Our beautiful baby boy Canon W. Jack Curry 7/2/2018. He joined us earlier than we thought and we couldn't be more excited and grateful. Family of 5!"
Before Canon's birth, the couple had two children, daughters Riley and Ryan.
Ayesha's obsession with her little man may be more than just the motherhood genes at work. While pregnant with Canon, the cookbook author was very open about her struggles with the pregnancy.
She wrote in an Instagram caption three months before the boy's arrival:
"6 down 3 to go! Praising God because I can finally eat and cook a little bit again! Pray that it sticks for me y'all! Ive had 5 hospital stays since the New Year and have pretty much been sucking at life (at least that's how it's felt.) I think I'm starting to turn a corner though!!!!"
All's well that ends well. Ayesha is doing well now, and baby Canon is soaking up all the love from his tight-knit family.
Meanwhile, earlier this month, doting dad Stephen shared a picture-perfect moment with his daughters after their flower girl duties at his sister's wedding.
Please fill in your e-mail so we can share with you our top stories!