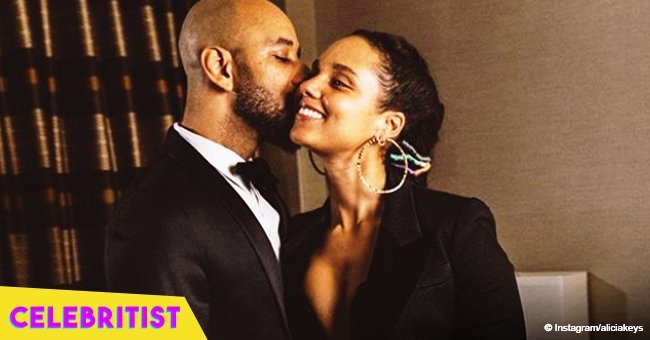 Alicia Keys celebrates husband Swizz Beatz 40th birthday with epic party in video
Alicia Keys went all out for her husband's birthday as he clocked 40 on September 13. The "No One" singer made a video montage of the bash that would put many Hollywood trailers to shame.
Keys might have just raised the bar for celebrating your spouse's birthday with the lavish affair she put together for her husband. It's even more incredible that she succeeded in merging elaborate and intimate. Get ready to be blown away by the video attached below.
She shared a video roundup of the events on her Instagram some hours ago, and fans cannot get enough. The clip opens to the world-famous James Bond soundtrack. It begins with a wide angle shot overlooking the Brooklyn Bridge, and cruising on the river below is a luxury yacht where the action takes place.
The video pans to a party scene- food, champagne, friends, and family. Of course, there's the scene where the celebrant Swizz Beatz, makes his grand entrance in a glittering tailored suit. Keys, 37, stands up for a toast.
"My baby's fortieth," she says, as the crowd cheers loudly.
Swizz' 007 experience was complete with casino games, live performances, and a multi-tiered cake decorated with the music producer's pictures. Keys makes sure she's the one to wheel in the confectionery.
Swizz, whose real name is Kasseem Dean, is visibly overwhelmed by his wife's gesture and he's seen kissing her multiple times.
As though that wasn't enough, the 15-time Grammy winner shared a photo slide of the event, accompanied by the sweetest caption. The message reads in part:
"I'm so glad you were born my love. Thank you to your beautiful mama and papa and the most high cause they made a masterpiece!!"
Fans of the couple were left highly impressed by the whole thing. One person joked about the quality of the montage, saying "Jheeez can't wait to watch the film." Another follower asked "Omg what's next for his 50ieth??? Too cool."
Not too long ago, the couple had another cause to celebrate. Both took to Instagram on July 31 to wish the other a happy wedding anniversary. It's good to see Keys and Swizz sharing their love. Their relationship took off to a rocky start in 2008 when rumors insisted Keys was responsible for Swizz breaking up with his ex-wife.
All parties concerned have since reconciled for the sake of the children involved.
Keys and Swizz tied the knot in 2010. They share two sons, Egypt Daoud and Genesis Ali.
Please fill in your e-mail so we can share with you our top stories!