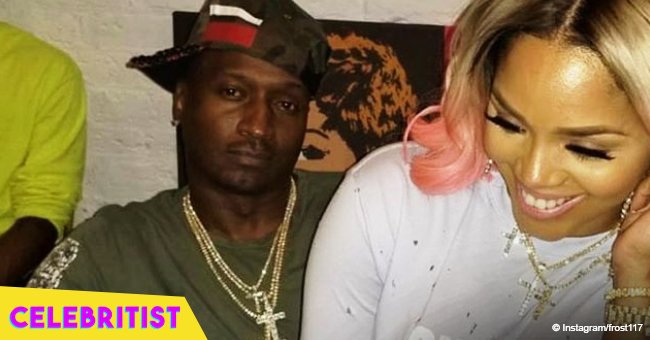 Rasheeda and Kirk Frost look in love while smiling and posing together in new pics
After a rocky season in "Love & Hip Hop: Atlanta" and their marriage, Rasheeda and Kirk Frost are going stronger than ever, and his recent Instagram pics are the proof of that.
Kirk Frost cheated on Rasheeda after being married for almost 12 years, he got his mistress pregnant, embarrassed Rasheeda publicly and almost ruined their family, but the couple is still as in love as ever, despite the critics they get on a daily basis.
In a set of pics posted by Kirk to Instagram a few days ago, the Frosts showed their playful side. As the pics progress, the pair went from posing side to side with smiles on their faces to Rasheeda standing in front of her husband as he grabs her waits, and end with the boss lady twerking on Kirk as he's incapable of keeping a straight face.
Rasheeda, always the fashionista, stole the spotlight in the pics wearing a striped black and white long jacket tied to the waist, matching pants, and a black blouse to complete the look. Kirk, on the other hand, kept it casual with a t-shirt, denim pants, socks, and Gucci flip-flops. The pair was posing in the middle of their living room.
"I was trying to take a good picture but then at @rasheedadabosschick Got ghetto on me," Kirk explained on the caption of the pictures.
Ever since Rasheeda decided to give Kirk another chance and fix their marriage, fans of the reality star have voiced their disappointment at her. Most of them believe she deserves better and should have kicked out Kirk from her life after what he did.
However, the couple still has some supporters left, and they filled Kirk's comment section with words of encouragement and blessing for them.
User @lady_dionicia wrote:
"I'm rooting for you guys marriage is one of the hardest ministries but just keep trusting God."
While @jahugaboo added:
"Love Y'all! Don't let anything tear y'all apart!!! @rasheedadabosschick #beautifulcouple."
And @batts053 said:
"I love u two, and I'm so glad to see Y'all happy together and winning."
The couple recently attended Beyoncé and Jay-Z's "On The Run II" concert in the company of Kandi Burrus and his husband, and they all had a great time. Rasheeda, in particular, looked dazzling in her colorful outfit, while Kirk kept a straight face, looking bored in their pics of the night out.
Please fill in your e-mail so we can share with you our top stories!