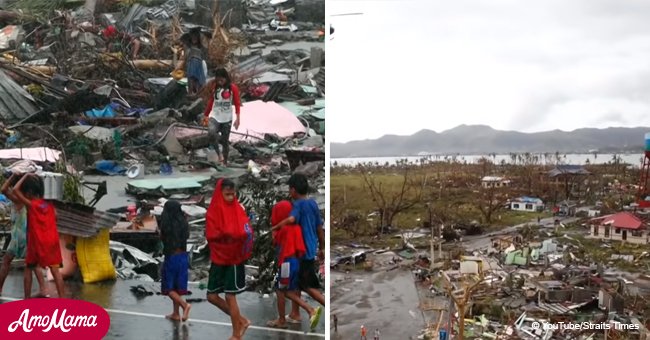 Massive typhoon hits the Philippines and claims its first victims

A typhoon slammed the Philippines and claimed its first victims while it is turning the country upside-down with winds that go up to 270 km per hour.
Earlier this Saturday, September 15, 2018, Typhoon Mangkhut, has hit the Philippines, causing a wave of destruction and leaving thousands of people in danger.
Images of its devastating effects continue to be shared online, with rivers overflowing and several buildings being destroyed by its ferocious winds and pounding rains.
So far, two people have lost their lives to Mangkhut, known locally as Ompong, which is considered to be the strongest storm on the planet in 2018. Follow us on our Twitter account @amomama_usa to learn more.
Both victims were women and they were killed when a rain-drenched hillside collapsed on them. Mangkhut has a lot of strength and its winds are 120 kph stronger than Hurricane Florence.
GRIM EXPECTATIONS
Although the authorities are expecting to see the death count rise, Edgar Posadas, a spokesperson for the National Disaster Risk and Reduction Management revealed that they were expecting an even worse scenario.
"I was praying and hoping and worried about having so [sic] much casualties. But I think after Yolanda, after Haiyan [the international name for Yolanda], there were a lot of lessons that were learned in terms of preparedness, early warnings, preemptive evacuations... and this went a long way."
Edgar Posadas, CNN, September 15, 2018
REMEMBERING YOLANDA
Over 6,000 lives were lost when Yolanda hit the Philipines five years ago and almost four million ended up homeless. Those who managed to survive quickly ran out of food, water and medicine.
HOW TO PREPARE
Even though Florence doesn't represent the same level of danger, people from North and South Carolina have received orders to evacuate, which prompted them to rush to the stores for supplies.
Aside from packing only the necessary supplies to guarantee their survival, experts suggest that people should stay in contact with their loved ones, especially through cell phones since they can be easily charged with a car jump starter or a nine-volt battery.
Please fill in your e-mail so we can share with you our top stories!