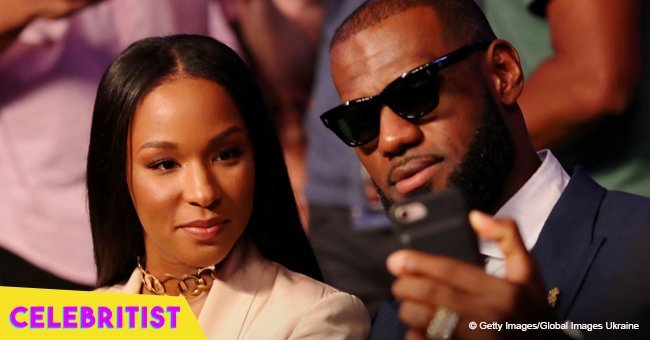 LeBron James gets Travis Scott and Sheck Wes to surprise his wife at their anniversary party

LeBron James pulled out all the stops for his fifth wedding anniversary with wife Savannah James. After a previous intimate surprise, the NBA superstar left his wife astonished again with an appearance by rappers, Travis Scott and Sheck Wes.
He is famously called King James, and LeBron proved that he is truly all about his Queen. Savannah and LeBron were married on September 14, 2013, so their anniversary was officially last Friday. The basketball star, however, stretched out the special event.
Over the weekend, LeBron surprised his wife with performances from "Antidote" rapper, Travis Scott and budding star, Sheck Wes.
Both performers lit up a party at LeBron and Savannah's LA home. The gathering was attended by family and friends, including LeBron's former Cleveland teammates.
Travis performed his hit song "Sicko Mode" while Sheck Wes chose to play his titular track. LeBron took to Instagram stories to capture all the fun taking place. The father-of-three even made sure to get footage of his son's faces as they were caught up in the thrill of the music stars.
Earlier, the 33-year-old left his wife stunned when he treated her to an intimate live performance by Canadian R&B sensation, Daniel Caesar. The singer delivered a soulful rendition of "Best Part" to his small audience.
LeBron filmed his wife swaying to the rhythm as their children stood mesmerized. "Happy Anniversary," the talented athlete said to Savannah, who couldn't help a shy smile,
It's hard not to notice the love between LeBron and his wife, and the couple's affection has come a long way too. Although they've been married for only five years, the two have known each other since high school.
Savannah once described the extent of her husband's devotion when she disclosed his reaction to the news of their first pregnancy many years ago. Their first child was born in 2004, and when Savannah discovered she was pregnant, they were both in the high school senior year.
Savannah was scared and worried for the future, but her partner assured her saying, "It's not going to slow me down, and it's not going to slow you down. We're going to keep doing what we have to do."
With such an enduring love, it's not surprising that LeBron recently identified Savannah as one of the women who inspire him.
The philanthropist recently launched a shoe line "HFR x LeBron 16" which he says was inspired by the strength and courage of 16 black women, one of which is his wife.
Serena Williams, His mother, and his three-year-old daughter, Zhuri were some of the other black females listed by LeBron.
Please fill in your e-mail so we can share with you our top stories!