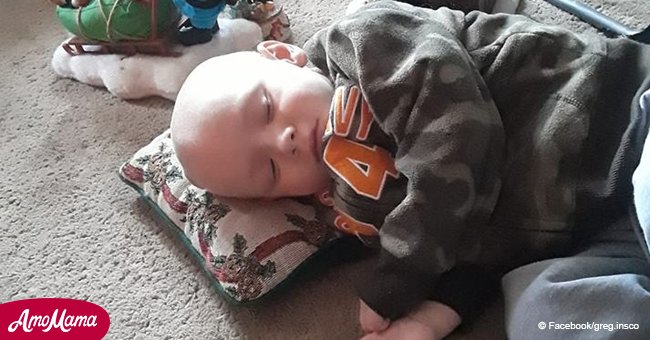 Neighbors fulfilled the dying wish of a 2-year-old boy who has just weeks to live
The neighbors of a two-year-old boy in Ohio put up their Christmas decorations early this year for the tot, who only has a month to live.
Little Brody Allen has a type of cancer called ETMR tumors or Embryonal Tumor with Multilayered Rosettes.
The illness is rare, and the family only found out about Brody's condition early this year after they brought him to the hospital when he suffered from frequent dizziness.
Upon diagnosis, doctors saw four tumors in his brain and another one on his spine.
Follow us on Twitter at AmoMama USA for more details and updates.
After spending 98 days in the hospital, Brody's family was told that he only had two months to live.
The boy's parents were devastated, and there was a constant feeling of uncertainty when they were going to lose him.
Since then, the family decided to dedicate their time to making Brody happy.
Christmas is the family's favorite holiday. Knowing Brody could be gone by then, they opted to celebrate the holiday early.
They decorated their house and their yard, and soon, the home was showered with Christmas spirit.
Neighbors noticed the decorations and decided to join as well, in honor of little Brody.
In addition, the community also set up a GoFundMe page to assist the family with their financial needs.
Todd Allen, Brody's father, works as a truck driver. Since his son was diagnosed, he filed for leave and dedicated his time to be a full-time father for Brody.
As for Brody, he has no idea how sick he is. It was a decision that his parents made. They did not want to let him know about his illness.
Speaking with WCPO, Todd said, "He's happy. He's enjoying life. That's how we're going to spend our days. I work every day to make him happy."
Todd said they want their son to have fun, to be happy, and to enjoy every minute of his life.
Meanwhile, 13-year-old Delaney Unger overcame her disease as she was previously diagnosed with bone cancer.
Although her knee had to be amputated, she continues to live her life as normal as possible. Doctors found a way to help her through a rare operation where they turned her ankle 180 degrees for it to function as a knee.
The teenager, who is a passionate dancer, wears a prosthetic leg during her performances.
Please fill in your e-mail so we can share with you our top stories!