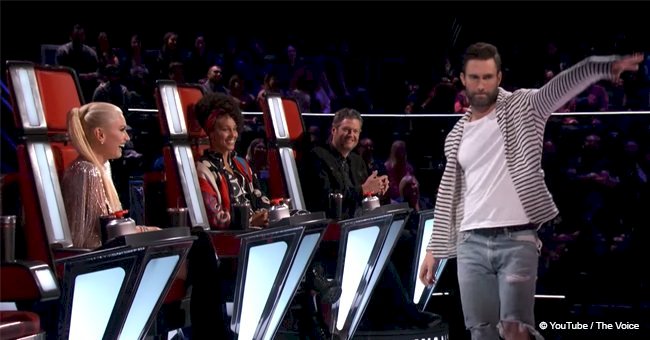 Woman wowed all the judges on 'The Voice' with her incredible rendition of LeAnn Rimes' 'Blue'
Casi Joy, a 26-year-old woman from Kansas City, took "The Voice" stage and surprised the coaches and the audience with her amazing rendition of LeAnn Rimes' "Blue."
In the video that "The Voice" YouTube channel uploaded in 2017, Casi appeared wearing a black skirt and a pink and black blouse. Apart from her outfit, her short and red hair attracted a lot of sights.
Only a couple of seconds were enough for her to show off her impressive yodeling skills, what made the then-coach Gwen Stefany turn her chair. Alicia Keys was next, turning her chair around after doing some hilarious facial expressions.
Casi kept singing and, after the second verse, Blake Shelton also hit the button, which was what the singer was expecting as she pointed at him as soon as he did so.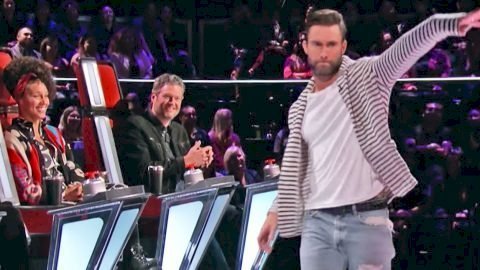 Source: YouTube/The Voice
A couple of seconds before the classic tune ended, Adam Levine turned his chair, too, but his expression showed that he knew Casi would not pick him due to her obvious relationship with country music.
After Casi introduced herself, Gwen revealed that her performance would stay in her mind for a long time and that she would love to work with her. Adam tried to win her by complimenting her singing skills but admitted that he was "exhausted" of losing country contestants versus Blake.
The Maroon 5 bandleader even left his chair and sat by the audience, knowing that it was a lost cause. Alicia said that Casi should focus on the two female coaches instead of on Blake and Adam.
Finally, Blake confessed that he didn't expect someone yodeling in "The Voice," and added that he wouldn't give up until he had Casi on his team. After thinking about it for a couple of seconds, the singer chose Blake, just as Adam foresaw.
Unfortunately, Casi was eliminated in the Week 1 of the Live Playoffs. She marvelously showcased her skills throughout her time in the show, though.
The latest winner of "The Voice," was 15-year-old Brynn Cartelli. She became the youngest contestant to win the competition.
Cartelli confessed she would to go back to school and finish it, which would be 'weird and crazy' as she would have to find some normalcy after becoming a star.
Please fill in your e-mail so we can share with you our top stories!