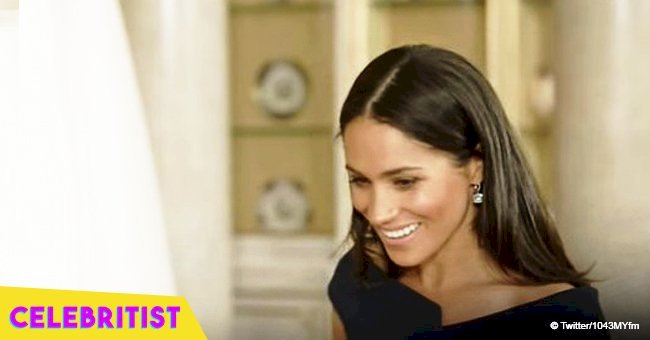 Meghan Markle has adorable reaction when she is reunited with her wedding dress

Meghan Markle unites with her wedding gown for the first time - and her reaction is absolutely priceless. The Duchess of Sussex began reminiscing about the most dreamy day of her entire life; the day became a royal after marrying Prince Harry.
the new Duchess of Sussex Meghan Markle shows an adorable reaction as she sees her wedding dress again. A segment of the documentary Queen of the World previewed Meghan being "reunited with her wedding gown and veil for the first time since her wedding day" and her reaction simply showed how impressed and amazed she was with her wedding gown.
She inspected the gown from top to bottom with a big smile across her face. Her veil was also a mesmerizing piece as it had flowers from 53 countries in the Commonwealth embroidered by hand. She commented "fifty-three countries, oh my goodness. It'll keep us busy" as she carefully felt the veil before it was sent to be part of the Royal Collection exhibition. Her gown was designed by Claire Waight Keller with a few specifications from the bride then bride to be.
In the feature, Meghan was wearing a navy dress, similar to if not exactly, the dress she wore to meet her mother at the Cliveden House Hotel, the day before the wedding. Some speculate that the clip was taken that night while others believe that the dress was just another re-wear – of course, this royalty doesn't succumb to the pressure of being called an outfit repeater.
Meghan Markle has been a fashion icon and a television show actress in the past years. She has been looked up to by many and believed to be a great addition to the royal family. Such a beautiful person with an equally beautiful heart being wed to a prince is definitely a fairytale.
The Queen of the World documentary features the royal family, including clips of what it is like to have a cool grandmother as a queen. It also includes parts about the Commonwealth and the family of nations linked to the U.K.
Although Meghan seems to be enjoying life as part of the British royal family, her father is having a hard time living his normal life. While the Duchess' life consists of charity work, polo games, countless events, and appearances, her father has been trying his best to live a life wherein his daughter is barely in the picture.
After a series of meltdowns on national media for his daughter reportedly "neglecting" him after getting married to Prince Harry, Thomas Markle Sr recently shared that he has been receiving death threats from a criminal.
The threats have been coming from an ex-boyfriend of one of his closest friends, ex-convict Jose Sandoval. He reportedly kept calling Markle Sr., giving him numerous threats about wanting to "kill him". After reporting the incident to the police together with his close friend Lori Davis, the threats have stopped and he is now trying to get back to his normal routine.
Please fill in your e-mail so we can share with you our top stories!