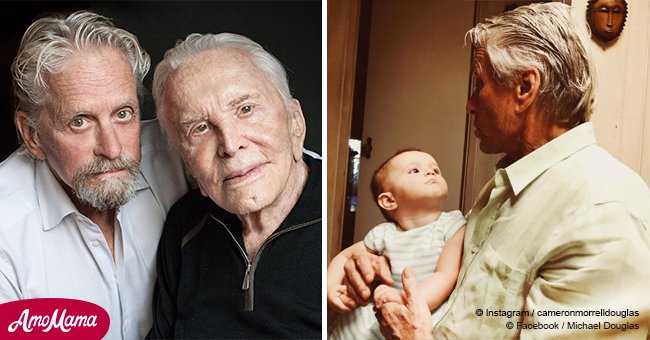 Michael Douglas's son reveals the cutest nicknames little Lua has for his famous father
Cameron Douglas shared the adorable nickname that his daughter, Lua, has for her grandfather, Michael Douglas, which shows just how enchanted the Hollywood icon is with his granddaughter.
Cameron took to Instagram to share a cute photograph of his father, Michael, carrying his granddaughter Lua. He captioned the post with a simple message, 'Lua loves her Buba.'
The nickname that Lua has given the legendary actor is sweet and shows that Michael just your average doting grandfather for his little granddaughter.
In the photograph, Lua and Michael are looking at one another. Lua seems to be pursing her lips in the cutest way possible, suggesting she is probably demanding more attention from her grandfather. Naturally, Michael is making a face at Lua seemingly trying to console the little girl.
Follow us on Twitter to learn more.
Lua's love for the senior members of the family is apparent in the photographs that Cameron has shared with the world.
Previously, she was also caught on camera spending a joyous moment with her great-grandfather, and another Hollywood legend of the family, Kirk Douglas.
In the photograph, Kirk is sitting on a sofa and looking at his great-granddaughter lovingly from behind his black shades. At the same time, Lua is looking up at him and her hand seems to be trying to reach out to the 101-year-old star.
Yet another photograph shared by Cameron on Instagram also spotted the little girl in the arms of her grandmother, Catherine Zeta-Jones. Cameron captioned the photograph, 'ZeeZee and Lua. Watch out for this duo!'
The Douglas family also showed how close they were with one another by sharing a family photograph with a caption, 'What it's all about. Blessed with Family.'
Although the Douglas family likes to keep their life private, they are also known for sharing a glimpse of their private moments from time to time.
Earlier in May, Zeta-Jones also took to Instagram to share an adorable photo of her son, Dylan, who was all suited up for his prom night.
Please fill in your e-mail so we can share with you our top stories!