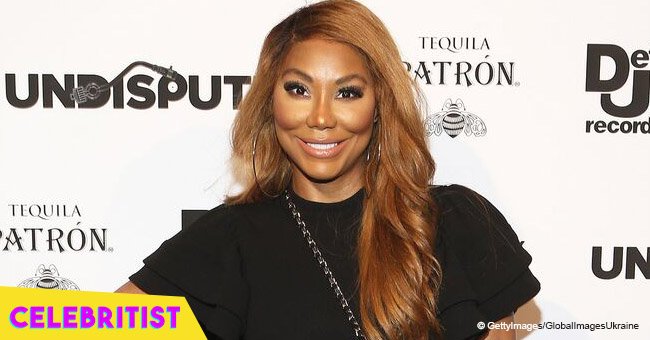 Tamar Braxton's son shuts her mouth with his hand and looks more like dad in new photo
Tamar Braxton and her 5-year-old son Logan shared the perfect family portrait, showing off their fun relationship in a recent pic shared on Instagram.
Braxton is currently in the middle of her divorce from Logan's father, Vincent Herbert.
The "Braxton's Family Values" has been splitting her time between her professional endeavors and her role as a single mother after her split from Herbert late last year.
Tamar knows how to balance her life perfectly so that she has time to spend with her son, and they seem to be having a good time.
In a recent pic shared to her Instagram, Tamar fell victim to her adorable son's ways as they pose together with the boy shutting her mouth with his hand.
Logan looked proud of himself, smirking while sipping from a purple straw. Tamar was rocking her recently shaved head while going along with little Logan's antics.
"This is what he does when his shows are on, and I'm on the phone trying to work #mybeans," Tamar explained in her caption.
Fans of the singer immediately flocked to the comment section, and while some couldn't stop commenting about her hair, others focused on how much Logan resembles his father.
"Looking Just Like Vince," wrote one fan. Another added: "He's identical to his father like seriously identical like a mini-me type."
A third one concurred: "Beans looking all grown n yaaahhhh [sic] he's so smart and looks like Vince already."
Despite their split and the fact that Tamar allegedly refused to visit her soon to be ex-husband in the hospital a few days ago, after he was hospitalized for gout in his elbow, Tamar assured Wendy Williams on a visit to her show that she still loves Herbert and considers him her family member.
She also denied the rumors about Vincent being a violent husband and informed the world that she's now moving on with another man.
Braxton has been dating a new mysterious man for over three months, and she gushed about the Harvard graduate on the show, saying:
"He's so fine! I can't take it sometimes. It's like a whole snack — a Lunchable! He lives in L.A., he's originally from Nigeria, but he lived here for a while."
According to The Blast, Braxton filed court documents showing "proof of service" of the divorce papers to Herbert earlier this month.
She initiated the process in October 2017, and recently got a warning from the court about her divorce facing dismissal for inactivity on the process.
Tamar is aiming to get primary custody of little Logan.
Please fill in your e-mail so we can share with you our top stories!