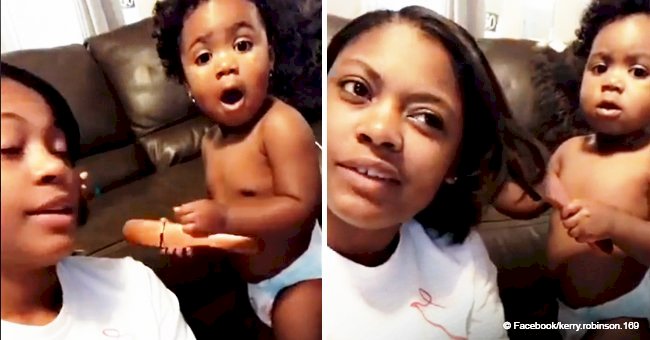 Video of baby girl having salon talk while brushing her mom's hair went viral
A one-year-old girl engages in salon talk with her mother as she brushes her hair in an amusing video that's now gone viral. She eloquently repeats what her mother says and responds to her story like a hair stylist would do.
An adorable video of a one-year-old brushing her mom's hair and responding to her salon talk is stealing fans' hearts.
Little Jayde is just one but she's already showing signs of her future as a bubbly hair stylist. In a video clip her mother, Kerry Robinson shared, the little girl is brushing her mom's hair as she engages in salon conversation with her.
According to Robinson who spoke to Cosmopolitan after her video went viral, she was trying to settle Jayde down because she was "bouncing all around the house."
"So I was like, 'Here, Jayde, just brush mommy's hair."
Kerry then recorded their hair time on Snapchat and was surprised with what happened next.
Kerry began engaging her in conversation and the adorable tot showed her eloquence by responding to her mother's stories. She would repeat her mother's complete sentences and would say, "he tripping, right", "he crazy", and "and then what happened." Jayde clearly nailed the girl talk.
Robinson said Jayde was a unique child who was never used to being baby talked.
"Her dad has never done baby talk with her. I started off trying to baby talk her and her dad wanted me to talk to her like she's an adult. She's really verbal, so she retains everything we say and repeats it back to us. You have to be super careful about what you say around her because she remembers everything."
This is not the first time Jayde has amused Kerry's followers. Previous videos reveal her sassing her father and singing Kendrick Lamar's hit "Humble."
Robinson also revealed the little girl said "I'm famous" when her mother told her her video went viral after she posted it on Facebook and earned more than 15,500,000 views. Here's that adorable clip.
Jayde isn't the only baby who recently gained attention for her talent. Florida Georgia Line posted a video of a baby who started singing the lyrics to their song, "H.O.L.Y." to the delight of fans who viewed it over 22 million times and shared it more than 439,000 on Facebook. In the clip, the little girl was strapped in her car seat when she started lip-syncing the lyrics to the song when it played in the stereo. Her energy and enthusiasm caught the attention of the band's members Tyler Hubbard and Brian Kelley who also posted the video below.
Please fill in your e-mail so we can share with you our top stories!