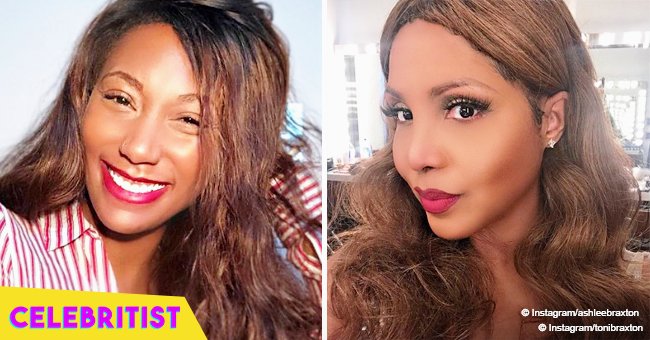 Toni Braxton steals hearts with picture of her beautiful niece Ashlee
Toni Braxton recently took to Instagram to share a throwback picture with her niece in London that has fans gushing over both women. Meanwhile, the controversy surrounding Toni and her family's reunion with Iyanla Vanzant keeps on growing.
Toni Braxton looks better than ever at her 50, and she easily rivals her niece Ashlee in beauty and youthful looks in a recent pic shared to her Instagram account. Both girls smiled brightly to the camera while celebrating the young girl's birthday in London.
In the pic, Toni is donning a black top with a grey jacket on top, while Ashlee rocked a red t-shirt with a flower print. They seem to have been enjoying a nice dinner, as there's a glass of champagne in the shot and some nice silverware on the table.
"Hanging with my niece in London, Happy Birthday @ashleebraxton," Toni captioned the picture.
Fans of the singer immediately took to her comment section to praise the Braxton's genes and compare Ashlee to Toni's sisters.
One fan wrote "Ashlee is cute looks like a lighter Towanda," and another added, "You know what she looks like a mix between Trina and Towanda. Crazy," and a third one agreed, "I thought it was @tamarbraxton! Them genes something serious. HAPPY BIRTHDAY!"
Ashlee is the eldest daughter of Michael Braxton Jr. Toni's younger brother and the only son of the family. The girl has been studying in Paris, France for the last three years, and she's majoring in marketing and communications in the International Business program at ISC Paris.
Ashlee, like her father, maintains her life away from the cameras, even though she made some appearances on the "Braxton Family Values" show a few years ago, revealing that her mother walked out on her and her siblings and that her step-mother was abusive for years.
BRAXTON'S FAMILY ISSUES
These days, the Braxton sisters are going through a hard time after they decided to halt the show's recordings because of some disagreements on their contract. Traci was the only one who showed up to the shootings, earning disapproval from her sisters, who called her a traitor.
The siblings' relationship was so tense that they decided to have a meeting with OWN's counselor Iyanla Vanzant, but according to reports, and what Tamar Braxton has revealed, the reunion didn't go as planned.
Some clips of the encounter seem to hint at a more significant discussion taking place among the sisters, and Tamar even called Vanzant "the devil." The singer revealed on The Wendy Williams show that she had been molested in her childhood by some family members and that Vanzant brought that topic to the table during their reunion without consent, causing Tamar to walk out of the taping.
The two-part episode of the Braxton's reunion with Iyanla will mark the season finale for the show's sixth season and is set to air in October.
Please fill in your e-mail so we can share with you our top stories!