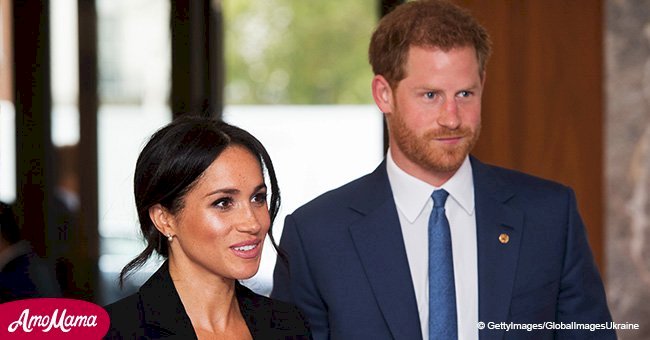 Couple who look a lot like Prince Harry and Meghan Markle spotted shopping for wedding gifts

Photos showing a couple looking very similar to Meghan Markle and Prince Harry got published by Elle on Thursday.
The couple was seen shopping for wedding presents in a Smeg London store.
The resemblance remarkable as they are seen walking around.
Read more on our Twitter account @amomama_usa.
12 years ago born conjoined twins, Abigail and Isabelle Carlsen was separated.
Now they have grown into different individuals but still have an inseparable bond. For their full story, Conjoined twins separated 12 years ago have matured into unique individuals.
WHO ARE THEY
Sadly they are not a real couple. Likely hired by Smeg for the attention it would bring to their brand.
According to Insider, lookalikes can make a good living off their resemblance to royals.
For more than a decade Patricia Ford,82 worked in the industry as a Queen Elizabeth lookalike.
Simon Watkinson, on the other hand, looks like 35-year old Prince William.
THE OTHER SIDE
A professional Kate Middleton lookalike Heidi Agan told Insider:
"I just did not believe that you could make a living. "It was something that just sounded really bizarre to me."
Agan claims she was a waitress making about $10 in 2011, the same time Kate Middleton became famous for her relationships with Prince William.
She constantly received comments about the close resemblance and eventually sent headshots to a talent agent, changing her career path forever.
Watkinson told Insider:
"Just before the royal wedding was my busiest time. Sometimes I would do a photo shoot at 4 a.m. or breakfast TV appearance before my day job, do interviews on my lunch break, and then make an appearance at a party in the evening after work."
According to Watkinson, he charges roughly $780 for a three-hour event, from $650 to $1,300 for a standard corporate event.
A TV commercial can go up to $13,000.
When wedding photographer Alexi Lubomirski talked to Business of Fashion about shooting Meghan Markle and Prince Harry's wedding he said what they wanted most was to be authentic. For all the pictures and more information, Meghan Markle and Prince Harry's Wedding Photog Totally Went Off-Book During Their Portrait Shoot.
Please fill in your e-mail so we can share with you our top stories!