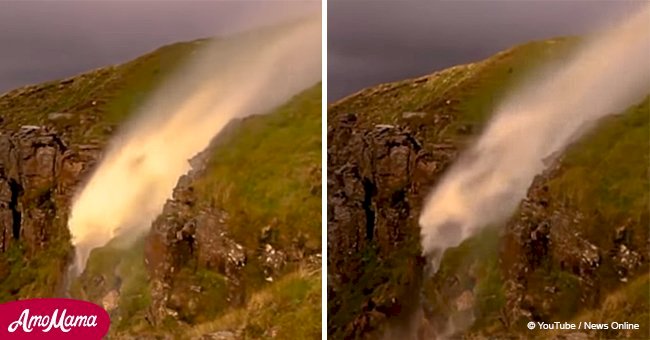 Magnificent video of waterfall with its flow reversed due to strong winds

On September 18, a remarkable occurrence took place in Cumbria when a waterfall's flow was reversed due to strong winds.
Storm Helene brought winds of up to 80 mph to parts of the UK early last week. The storm has since dissipated, but not before causing several power shortages and traffic disruptions, primarily in Cornwall.
While in action, the storm also created an incredible phenomenon of an "upside-down waterfall" at Mallerstang Edge. The clip is found below.
Follow us on Twitter for more @amomama_usa.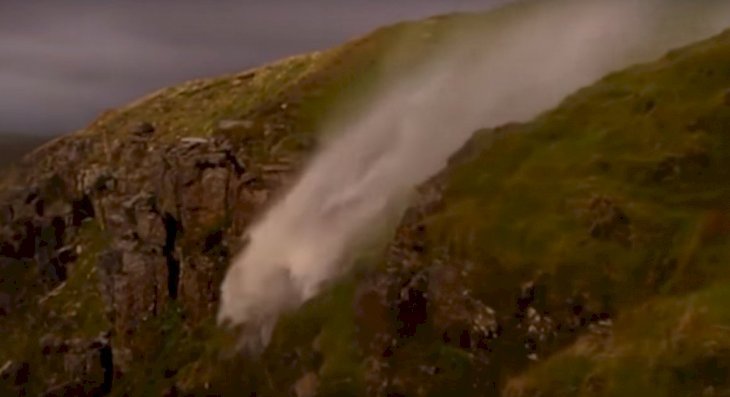 Source: YouTube
The video of the event was uploaded to YouTube where it has been viewed over 267,000 times.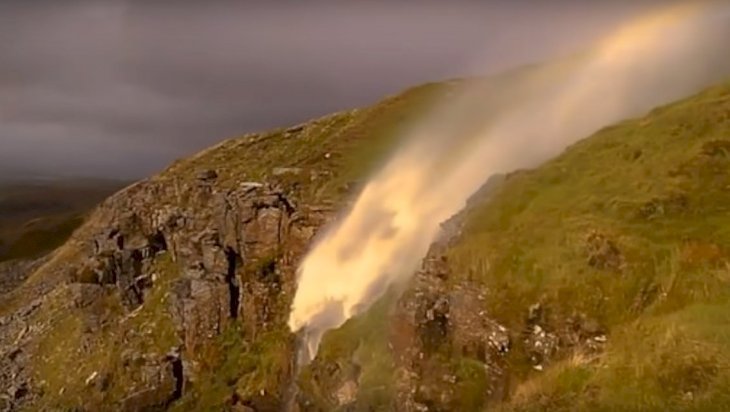 Source: YouTube
In it, viewers see the water being blown upwards in a magnificent display by mother nature. The other-worldly scene was captured at the peak of Storm Helene.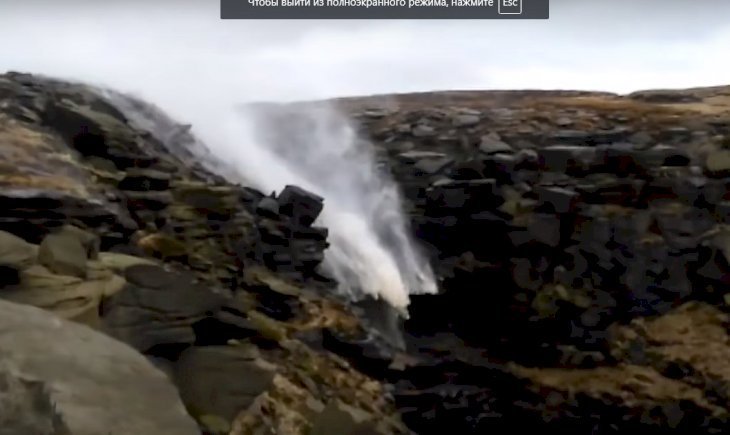 Source: YouTube
Looking more closely, one can see that a stunning rainbow also formed within the gravity-defying waterfall along its new upward path.
Helene affected Scotland and Northern England last week while Storm Bronagh brought flooding to Wales and New England.
Among two unfortunate casualties, Bronagh also created a hero in Richard Hamshaw, who rescued an older woman in South Yorkshire.
The 32-year-old South Yorkshire man broke open the woman's window and pulled her out from her vehicle which was quickly filling up with water.
The incident was caught on camera and has brought Hamshaw, who is very humble, lots of praises for his daring act.
Among the dead, however, was Elvira Ferrari, whose caravan got swept away and off a ledge into the sea.
The 56-year-old mother of three was actually a tourist who had arrived just one day before the 102 mph winds ended her life.
Matthew Campbell was the second victim of Ali. He died when a tree fell and crushed him while working.
His organization, Northern Ireland Water, expressed how they were "deeply saddened" about his passing.
A second employee in the area also got injured and had to be treated at a hospital.
Please fill in your e-mail so we can share with you our top stories!