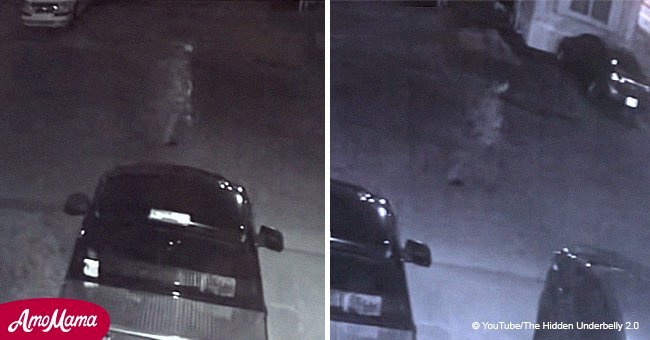 Spooked family considers moving house after catching ghostly figure on their CCTV

A couple from Kentucky is considering moving into another home after reportedly capturing footage of a full-body apparition walking through their driving way.
Rick and Pamela Carter, from Henderson, Kentucky, where shocked when they saw what appeared to be a translucid man marching outside.
As it can be seen in the video, which has been uploaded to Youtube, the figure walks in front of the CCTV camera and vanishes into thin air.
Follow us on our Twitter account @amomama_usa for more spooky stories.
28-year-old Pamela confessed that she felt 'frightened after seeing the man pacing down the street and disappearing.
After capturing the spirit on camera for the first time, the mother-of-two checked the CCTV footage again and spotted the same figure marching 'like Caesar' outside.
AN EERY FEELING
Pamela, who works as a hairdresser, said that she was petrified when she walked outside and didn't see anyone. This has led her to consider moving if the strange occurrences keep taking place.
According to her, she doesn't like being alone in the house and always feels as if she is being watched or heard. She even claims to have felt something being thrown at her.
THE TRAILER ENTITY
Pamela also shared that one night she was sitting outside their house with Rick when they heard the sound of someone running from one end of their neighbor's trailer to another.
They went to check it out, worried about the neighbor's grandmother, but the trailer was empty. Later, the neighbor, who is yet to be identified, said that her house was haunted by a ghost.
DEAR DAVID
But Pamela isn't the only one dealing with spirits; Adam Ellis, a popular Instagram user and cartoonist, claims that the ghost of a little boy named 'Dear David' has been haunting and trying to kill him.
Ellis shared his story and experiences online and his followers have been able to see the pictures and videos that he took while inside the house, with strange occurrences being caught on camera.
Please fill in your e-mail so we can share with you our top stories!