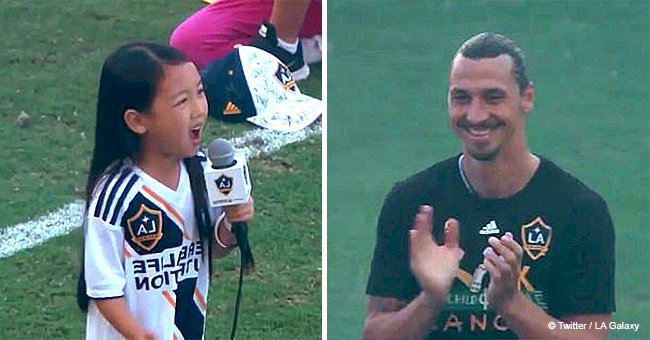 7-year-old stole America's heart with her powerful rendition of the national anthem at a match
Malea Emma is a 7-year-old girl who won a competition run by the LA Galaxy club to sing the "Star-Spangled Banner" before their match on Monday. The little girl took to the pitch like a pro.
LA Galaxy player, Zlatan Ibrahimovic, was all smiles as he listened to the little girl hit the high notes. She even got to meet him after the game.
When Malea Emma heard she'd won the competition to sing the US National Anthem at a game on Monday, she was thrilled. The match at the StubHub Center was attended by 25,000 people.
The little girl shocked everyone when she began her powerful rendition before LA Galaxy took on the Seattle Sounders. Zlatan Ibrahimovic, 36, is known for being quite serious, but he also couldn't help but smile as Emma sang.
For more on this story go to our Twitter account @amomama_usa. Ibrahimovic, a father of two himself, gave a hearty round of applause after Emma was done.
Emma became Ibrahimovic's good luck charm as he managed to score his 501st career goal and the 18th of the season. His team ended up winning the game by 3-0.
The legendary Swedish player was so moved by Emma's performance that after the game, he took to Twitter to sing her praises. In a simple post, he called her the "MVP of the game."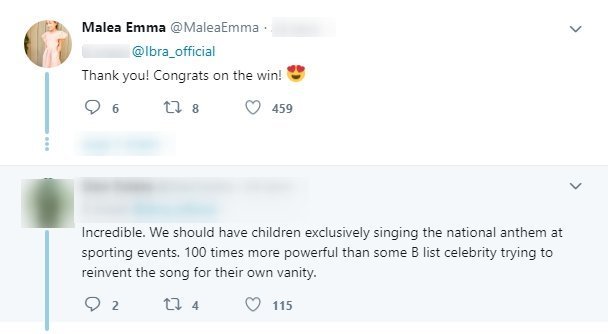 Source: Twitter/Zlatan Ibrahimovic
The little girl responded with "OMG" and an emoji. Ibrahimovic even retweeted the seven-year-olds performance after the game.
In another show of patriotism, Amanda Reallan, of Idaho, was picking up her children from school at Hayden Meadows Elementary when she saw a display that had her in awe. She saw three young boys delicately and meticulously folding a US flag.
She described the scene as:
"It was a beautiful act patriotism. I was like 'wow that was just amazing.' I don't even know these boys honestly."
The boys were chosen by the school's custodian, who is an Air Force veteran, Mac Marty, to put up and take down the flag. He'd also showed the boys how to properly fold and store it.

Source: Twitter/Zlatan Ibrahimovic
The three boys, Naylan Tuttle, Jack LeBreck, and Casey Dolan said they understood the importance of handling the flag with care.
"This is our nation's flag, this is our school's flag, it's how we represent our country. If you let it touch the ground then you disrespect our country is what I heard."
Please fill in your e-mail so we can share with you our top stories!