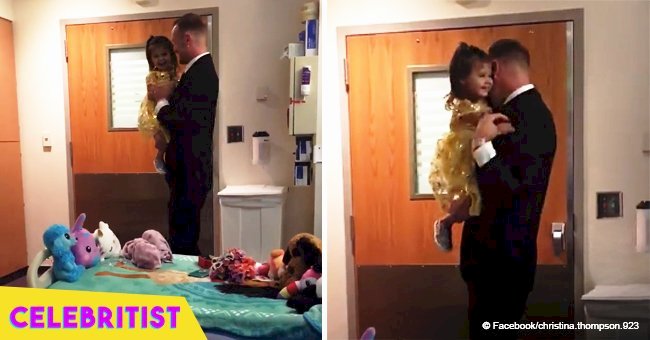 Video of dad sharing emotional dance with 2-year-old daughter who is battling cancer goes viral
An emotional video from a father-daughter dance has become viral after people learned the story behind the setting of the heartwarming moment. Little Phoenix is only 2, and she was diagnosed with leukemia and other rare blood condition last August.
On the last day of her first round of chemotherapy, Phoenix Thompson received a surprise from her father Brett in her hospital room. Phoenix's mom, Christina Thompson recorded the sweet moment, and the video has gathered almost 300k views and has been featured in several famous outlets, including the Ellen De Generes webpage.
The 2-year-old began chemotherapy in early August, two days after being diagnosed with Acute Myeloid Leukemia at Children's Healthcare of Atlanta. She's also battling with a rare blood disease called MDS or Myelodysplastic syndrome, which refrains her bone marrow from working normally.
For such a young girl, the process has been tiresome and confusing, even though she has the support of her parents, siblings, and friends. That's why her father decided to celebrate the special occasion of her last day of chemo with a little surprise.
THE SURPRISE
Christina recalled on the caption of her Facebook video that, a nurse came into Phoenix's room carrying some dresses that a volunteer had allegedly dropped off for the kids and asked the girl to pick one, something that's not rare in the hospital. After Phee, as her parents call her, put on a golden shimmering princess dress, Brett came into the room wearing an elegant suit.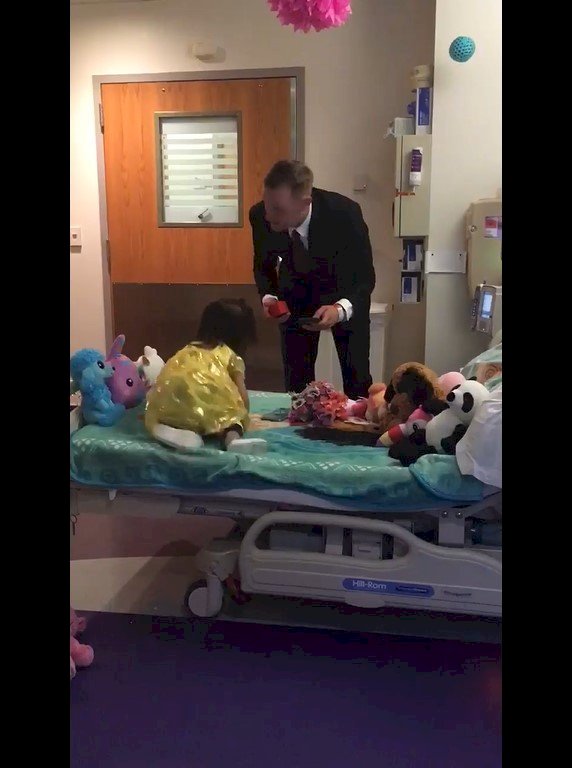 Source: Facebook/christina.thompson.923
The father of five then asked his little girl for a dance, as he put Tim McGraw's "My Little Girl" on a speaker and held Phoenix on his arms while he shared a slow dance together. Phoenix could only smile and hug her daddy while they swayed together, surrounded by the girls' stuffed animals and an emotional Christina.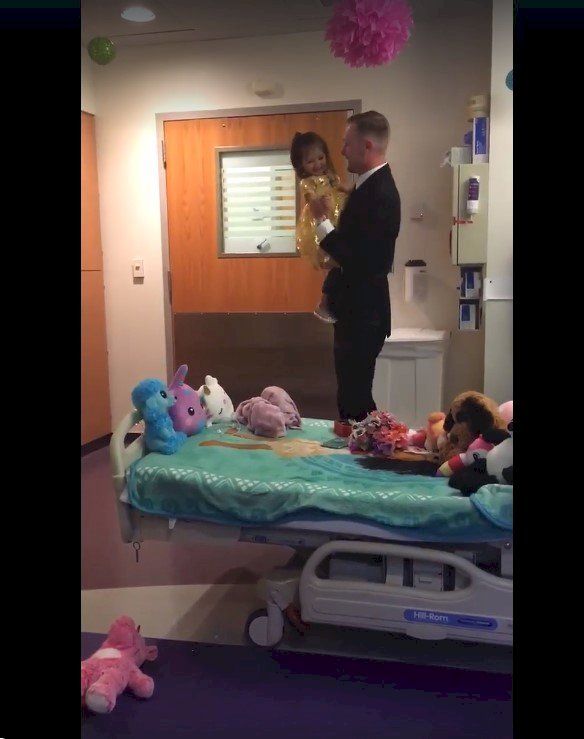 Source: Facebook/christina.thompson.923
"[Her reaction to it] was the biggest emotional thing for me," Christina said to People, adding that Brett is not unfamiliar with that kind of gestures.
"He dances with them all the time, and he's shown up to pick me up from the airport in a suit before, with a car. … He just does it to make people happy."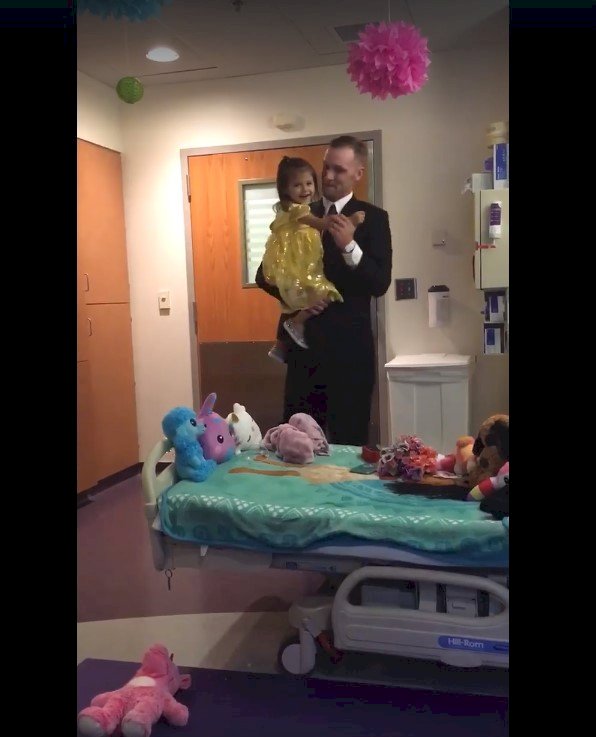 Source: Facebook/christina.thompson.923
THE REAL MOM
Despite the difficult situation in which they're in, little Phoenix remains to be the brightest happy girl that her family loves. "She's full of life and full of energy; she's the only kid that gets out of her room here and goes and plays with everybody," said Christina.
"She's a hundred miles an hour, really. She has a lot of personality."
Christina and Brett are not Phoenix's biological parents. They have been her legal guardians since she was born, but her biological mother is a woman named Whitney -a childhood friend of Christina- that was struggling with drug addiction through her pregnancy and was sent to jail shortly after her daughter's birth.
These days, Whitney is out of jail and in rehab, but she often visits the girl and is trying to help in everything she can to make Phoenix's battle against cancer easier for everyone involved.
"It's amazing to see her bond with us in general, because we are not her biological parents," said Christina. "She just is so happy, and I'm just glad we've been able to love her enough to where she is this amazing kid."
THE LEVEL UP DANCE
In related news, another father who became a viral sensation was Kennith Thomas, a professional dancer, and choreographer who melted hearts all around the country dancing to Ciara's "Level Up" in front of his 1-year-old son, Kristian.
The proud dad, just like Brett Thompson, was celebrating little Kristian's last day of his first round of chemotherapy. His video was noticed by Ciara and reposted to her page, and the singer even visited the father-son duo in person.
Please fill in your e-mail so we can share with you our top stories!