House burglar was so cute that the police officer even took a selfie with him
An unlikely masked intruder entered a house in the middle of the night, half-scared the pets, defied the homeowner and required a police escort to get off the property. The pictures below are evidence enough of what transpired.
A Florida resident woke up from her sleep to a commotion in the dead of night. At first Sue Mikelson thought it was just her cat and dog rough-housing unusually loudly.
But her vigilant pets soon ran into the bedroom chasing an unknown masked bandit with a bushy tail. It appeared that Sue's home had suffered a "break-in."
Read more on our Twitter account @amomama_usa.
MASKED BANDIT
Mikelson woke up to find a very confused raccoon darting around her room, presumably trying to escape the dog and cat and find a safe way out.
Soon the raccoon did what raccoons do and deftly climbed up Mikelson's vanity and hung there precariously, nervously eyeing the dog and cat below.
BAITING HIM
Unsure of what to do next, Mikelson went to a neighbor to get advice and help. They decided to entice the raccoon to come down from the vanity by using food as bait.
The fearless pair offered bread as an enticement but it did not work. The raccoon refused to be baited and would not budge.
SOMEBODY CALL 911 
Sue and her neighbor eventually admitted defeat. They took the next step and called the local police department for help. Police officers with the Pinellas County Sheriff's Office were quick to respond to the call.
Together, the officers got the raccoon down from the vanity, and after making sure the raccoon was in good condition, released the little guy back into the wild – but not before taking a selfie for posterity.
PLEASE, SIR, MAY I HAVE SOME MORE?
In a similar situation, a raccoon mother did something even more unusual. This raccoon in Sarasota was filmed by Susie Chinn using a stone to tap on a glass door to beg for food.
To watch the videos and read the full story on this innovative raccoon, click here.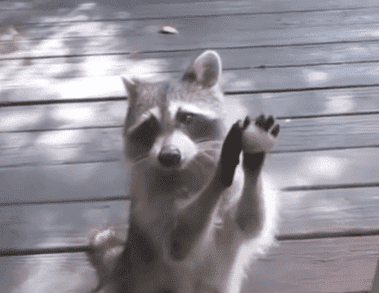 LET ME OUT!
In another story, Carson Parker from Elkhorn, New England found a trapped raccoon in his backyard. Parker decided to help the animal using various humane methods.
To know more about what transpired that day, read the full story here.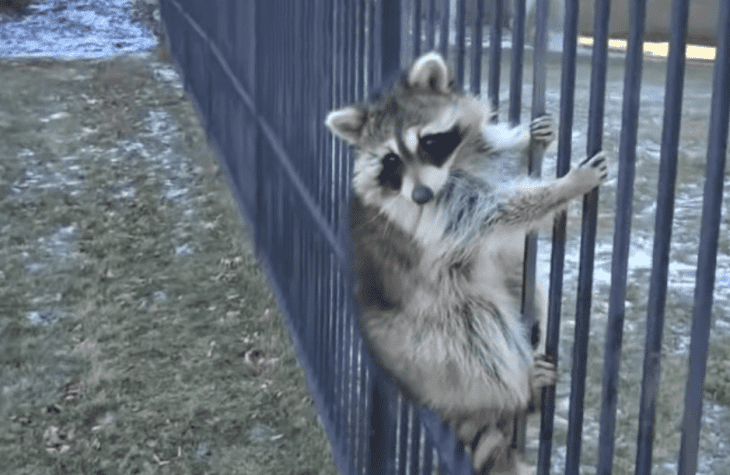 Raccoons are found in many places coexisting with humans. They are drawn to us by the smell of food, thus raccoons can find themselves in and around homes fairly often, putting both us and them in danger.
Animal services or the local police should always be called in to remove them humanely, for everyone's sake.