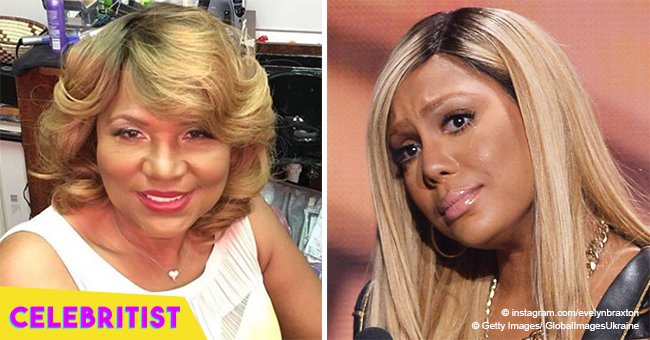 Evelyn Braxton breaks silence on daughter Tamar's confession that she was molested as a child
Her daughter, Tamar Braxton recently revealed a dark secret saying she was molested when she was a child. Now Evelyn Braxton is speaking up and reacting to the revelation.
Tamar Braxton surprised the world and her family when she opened up about being molested as a child by family members, a secret she's kept for a long time. She told her story during her September 13 appearance on "The Wendy Williams Show" and naturally, her mother, Evelyn Braxton, got wind of it.
On September 24, Evelyn broke her silence and gave a mouthful to TMZ when the news outlet caught up with her at a parking lot. She said she was devastated after hearing her daughter's story and assured Tamar that she had her full support.
"I'm prepared to stand by Tamar's side no matter what. It happened within the family and that's devastating. So that means you have to watch outside of the family and what goes on inside of the family. And can you imagine? It's devastating for the person that has been dealing with this all of these years."
She also believes Tamar's predators within their family are indifferent to Tamar's confession and are confident her story will just die a natural death. But Evelyn clarifies she will stand by her daughter whose pain resonates in her.
"I feel that … they feel that they've done nothing wrong. I don't care who it is, I'm going to stand by her 100 percent. … Her pain is my pain, how about that?"
Meanwhile, Tamar's older sister, Towanda Braxton echoed her mother's sentiments and expressed support for her sister who she says "has the right to speak her truth regardless on how long ago it was or who it was." She also lauded her sister for coming forward with the heroic confession.
Tamar explained to Wendy Williams that she felt forced to disclose her secret after participating in a meditation session with her family in Iyania Vanzant's show.
"I've been battling myself on whether or not I want to say really what happened or not because everybody wants you to be political. … A lot of things happened in my childhood that I was too afraid to talk about or too ashamed to talk about. But the truth of the matter is that I have been molested by both sides of my family."
She also alluded to Iyania's shady motives for encouraging her to spill her story.
"It's nothing I've ever talked about and I never thought that I would sit around a table with Iyanla, who's here to talk about me and my sisters and their problems and to bring that up and sex shame me, basically, in front of everybody."
Along with Tamar's confession, she also opened up to Wendy about her new boyfriend who's making her happy nowadays. She told the talk show host she's "very much in love" after dating for three months. Her mystery man who hails from Nigeria and she didn't name was described by Tamar as "lunchable." She also confirmed in a tweet later that she was going to meet his mother during a scheduled trip to Nigeria for his mother's birthday.
Please fill in your e-mail so we can share with you our top stories!