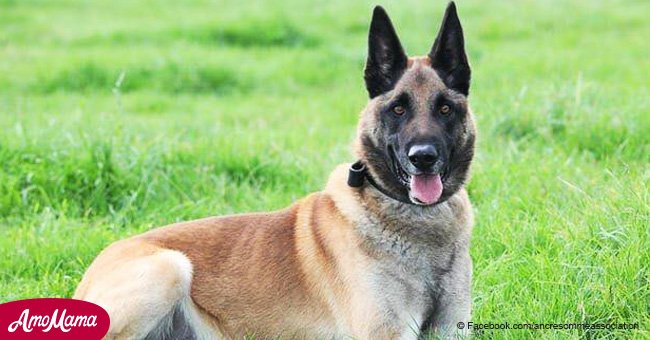 Brave army dog awarded highest honor for saving soldiers after being injured by three grenades
Mali, a Belgian Malinois, received the Dickin Medal for saving the lives of Special Boat Service troops during a military operation in Afghanistan.
The medal, awarded by the People's Dispensary for Sick Animals, is considered to be the animal equivalent of the Victoria Cross, the UK's highest honor for gallantry.
As reported by The Guardian, Cpl Daniel Hatley, who trained Mali ever since he was a puppy, confessed that he was 'extremely proud' of him for the way that he conducted himself.
Follow us on our Twitter account @amomamam_usa to learn more.
According to Hatley, Mali's heroic actions allowed his colleagues to achieve success in close combat, which wouldn't have been possible without him.
During the near eight-hour operation to dislodge a heavily armed Taliban force from a building, Mali was wounded by three grenades.
A FORCE TO BE RECKONED WITH
The first two blasts injured his chest and both front and rear legs, while the third exploded near his snout, damaging his ear and causing him to lose a front tooth.
Despite his serious injuries, Mali remained by his handler's side at all times, braving direct fire twice and even being hoisted up the outside of the building on a number of occasions.
ESSENTIAL TO THE MISSION
His bravery enabled the British forces to safely engage in close-quarters combat by locating the enemy and saving the lives of those fighting by his side.
Mali, a K-9 that specializes in the detection of explosives and insurgents, is seen by everyone in the military for what he his: a hero. He is one of the many examples of the important role animals play in the armed forces.
The four-legged soldier was the 69th animal to receive the Dickin Medal ever since it was created in 1943. The other medals were given to 32 world war pigeons, 31 dogs, four horses and a cat.
SGT. RECKLESS
Among those heroes is Sgt. Reckless, a Mare that was honored for her military service with the U.S. Marines during the Korean War in 1952 and 1953.
Reckless made over 51 trips between ammunition supply points and firing sites through the course of five days, braving enemy fire while carrying 'over 9,000 pounds' of ammunition, and still managed to come out alive from the conflict.
Please fill in your e-mail so we can share with you our top stories!