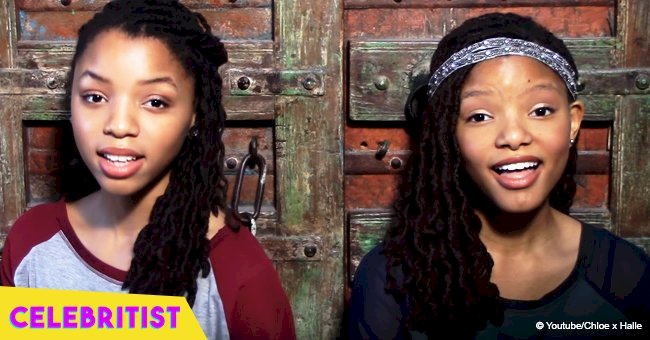 Sisters became famous after singing Beyoncé's song in viral video
Chloe and Halle Bailey were two normal girls with a YouTube channel until they caught the attention of music icon, Beyoncé. Now, the sisters have earned a place in the entertainment industry, and at their young age, they're considered one of the best music acts of the last years.
Known collectively as Chloe X Halle, these sisters started their YouTube channel when they were 13 and 11 respectively. What began as a way of showing off their talents and having fun with it, gave the girls the chance to be mentored by the one and only Beyoncé Knowles.
It was their cover of the former Destiny's Child singer track "Pretty Hurts" that put the girls on the map back in 2013. After the video went viral, it reached Beyoncé, and the diva loved it so much that she shared it on her Facebook page. Two years later, Chloe X Halle were signing a 1-million-dollar contract with Parkwood Entertainment, Knowles' record label.
Speaking to Entertainment Weekly earlier this year, Halle recalled the moment:
"We literally were flipping out, because as young girls, of course, everyone looks up to Beyoncé."
FROM YOUTUBE SENSATION TO ALL-AROUND STARS
After that, the girls' popularity started to rise, and to this day they have added significant milestones to their lives and resumés.
Like making a cameo on Beyoncé's music video for "Lemonade," performing on the White House, opening for Michelle Obama's South by Southwest Keynote and the song "This Is for My Girls" and even landing a song on the soundtrack of Disney's "A Wrinkle in Time."
They also opened for Beyoncé's 2016 "Foundation" tour and released their self-produced and self-written debut album, "The Kids Are Alright," earlier this year.
The self-taught musicians used the power of the internet to expand their abilities, as Chloe said to EW:
"My sister and I were self-taught. It's been so much fun exploring and figuring out different things. With technology and the internet, all you've gotta do is search it and you'll have your answers. That's how we learned."
LEARNING FROM QUEEN B
The girls use their own experiences to make their music, and the process is therapeutic for them as well. "When we write these songs, we write to ourselves as diaries," Chloe explained. "We uplift ourselves. We're human, we're not perfect, but you can never let that bring you down — it's about what you do with it."
As for what they have learned touring with Beyoncé, the girls said:
"Something we learned from her is that she's always giving a thousand percent, no matter what it is, no matter how many times she's done the show. We love that so much about her. Something she's always instilling in us is to just trust our intuition and our gut and let the world catch up to us. To just continue being ourselves."
These girls are not the only Beyoncé's protegees. There's another girl, a model, who captured the singer's attention with her beauty.
A DIFFERENT TYPE OF BEAUTY
Ava Clarke is a 10-year-old African American girl that looks nothing like a black girl. She has blue-green eyes, almost white hair and a clear complexion, the result of a genetic condition called albinism characterized by little or no production of the melanin pigment.
She started modeling a few years ago, immediately earning nationwide attention for her different, but beautiful looks. She had a spread on Italian Vogue and opened the runaway for New York-based designer Hilton Hollis. At some point, she caught the attention of Queen B, but when the singer requested for Ava without giving away many details, the girl's mom declined.
After Beyoncé's team insistence, Ava's mom finally decided to give the job a shot, still not knowing for what superstar her daughter was going to work. So, when then 8-year-old Ava met Beyoncé, she was more than stunned.
At the end of their shoot for "Lemonade," the girl was on a first-initial basis with the singer. When her mother heard her address Beyoncé as "B," she corrected her saying, "Miss Beyoncé," but Ava fired back, "B told me to call her B."
All these girls have the honor of being mentored by one of the most influential women in the industry, and they're working hard to make her proud.
Please fill in your e-mail so we can share with you our top stories!