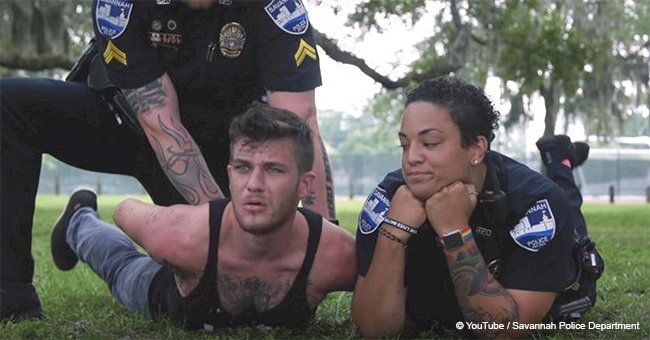 Police department accepts lip-sync challenge and it's on a completely new level (video)
Savanna Police Department contributed their highly dramatized video as a part of the ongoing Lip Sync Challenge tirade, and it is taking the internet by the storm.
The video produced by the police department in collaboration with local station Hot 98.3 is one of the most beautifully shot lip sync videos of all time and it presents an interesting story of a cop arresting a criminal.
The four-minute-long video from the officers begins with a police officer chasing a man in a dramatic slow-motion speed while the iconic song, "Hold On," by Wilson Phillips plays in the background.
As the music progresses, the officer finally pins down the man on a field and cuffs his hand behind his back.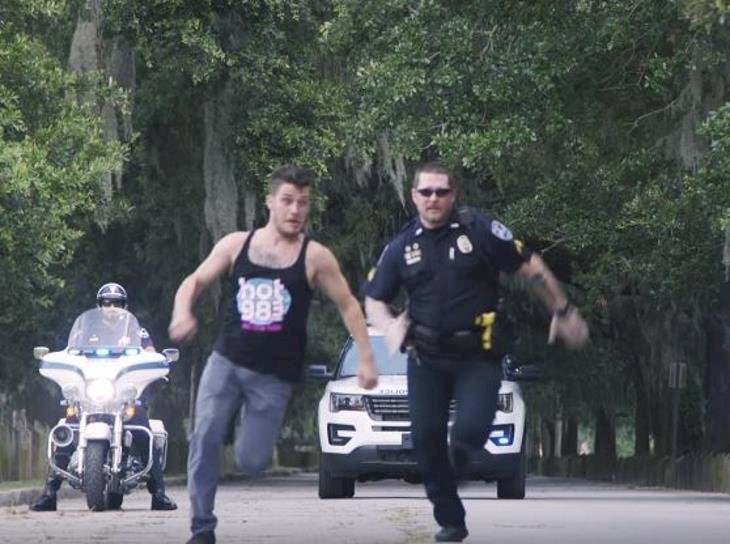 Source: YouTube/Savannah Police Department
Follow us on Twitter to learn more.
Just then a female police officer enters the frame, lip-syncing to the lyrics of the song, "I know this pain – why do you lock yourself up in these chains?"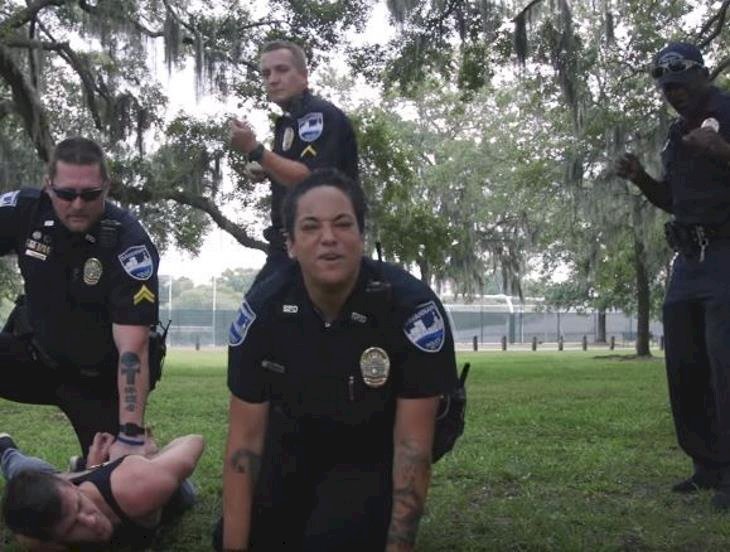 Source: YouTube/Savannah Police Department
As the officer lip-syncs, she connects the meaning of the song to relate to the acting-criminal the other police officer just caught. Within a few moments, other police officers join the song as they dance their way into the frame.
Soon, through a series of cuts, we see various officers of the Savanna Police Department lip-syncing to the song in their own unique way – some sing from above their horses' back while others sing from their police motorcycles.

Source: YouTube/Savannah Police Department
In the description of the video, the police department thanked Savannah Bananas and Hot 98.3 for providing support on the project.
The entertaining clip has been viewed over 30,000 so far and is quickly going viral on the internet.
Meanwhile, USA Today informed that the lip-sync battle is a hit social media trend of the moment. It involves the police officers and firefighters showing off their entertaining and funny side through dramatized music videos.
The source further informed that almost every video uploaded as lip sync challenge music video went viral on the internet, so the news outlet wanted to select the best video out of the rest.
They called for an online poll to give anyone department the ultimate bragging right. The voting shortlisted two finalists among the many videos uploaded: the Flower Mound, Texas Police Department, and the Charlotte-Mecklenburg Police Department.
Amid all the viral lip sync battle videos, one particular video produced by the San Antonio Police Department got special attention of the internet after it featured an adorable dog playing its part in the battle.
Please fill in your e-mail so we can share with you our top stories!