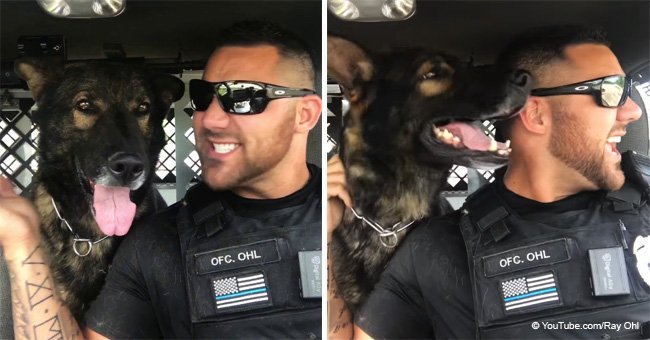 Police dog steals the show in viral lip sync video
The partners against crime are clearly very close, as the dog was happy to play along with his master for an adorable lip sync battle in the car.
Denison police officer Ray Ohl and his four-pawed partner, police dog Piko, were tasked with joining in the law enforcement lip sync battle that was started by the San Antonio Police Department on social media.
Always happy to have a good time, Ohl obliged, making sure the camera in his squad car was rolling when a popular song came on the radio.
The tune, "The Middle," by Grey, Maren Morris, and Zedd, was released this year, and is a catchy pop tune. As soon as the song started playing, Ohl started lip syncing along.
Not only did he pretend to be singing along, but he made sure he was dancing around as much as he could while confined to the car seat, pulling his face into appropriate facial expressions as he went, and providing the required amount of sass for the song.
And while he was doing a great job of slaying the song all on his own, it was soon revealed that he wasn't actually alone in the vehicle.
At one point he reached back to the barrier separating the front and back seats of the car, to reveal his K9 unit, Piko, sitting in the back. The pup was quick to stick his head forward through the gap, and while he couldn't sing along, he demanded many pats from his partner.
Elsewhere in the country, Harris County Constable Deputy Madison Sperry joined the lip sync battle challenge of her own with her K9 unit.
She could be seen sitting with her partner in the car, playing Baha Men's popular track "Who Let The Dogs Out?" Unlike Piko, her pooch was more than happy to join in, barking at the appropriate moments throughout the song, at one point letting out a dejected whine when it had been too long between his parts.
Please fill in your e-mail so we can share with you our top stories!