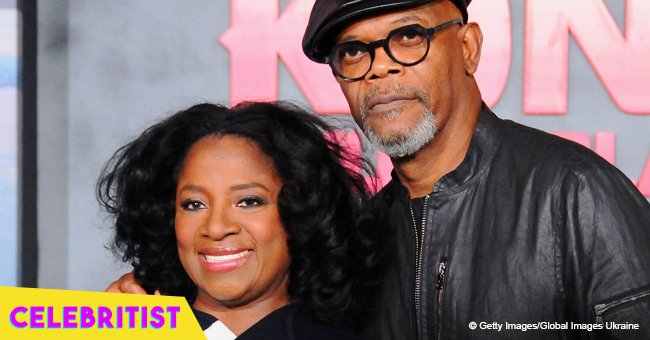 Samuel L. Jackson's wife of 38 years shares photo of their daughter in sophisticated black dress
LaTanya Richardson recently took to Instagram to share a gorgeous pic of her only daughter, Zoe, 36, looking stunning in a black dress making her way to the Emmys.
Samuel L. Jackson has been married to Richardson for 38 years, more than the average Hollywood couple. The pair met in Morehouse College and have been together since then. Their only daughter is all grown up now, and she's also part of the entertainment industry, but unlike her father, she prefers to be behind the scenes.
Zoe is the supervising producer of shows like "Top Chef," "Top Chef Jr." and "Suga Rush." As part of the television industry, Zoe was invited to the recent Emmy Awards ceremony, and her mother made sure to immortalize the moment as if it were prom night.
LaTanya posted a pic of her daughter with her date, and other of the woman alone, standing at the bottom of the stairs at their home, and Zoe looked stunning. The 36-year-old rocked a sophisticated design featuring a sleeveless short black dress with a see-through robe on top, which had some lace at the bottom.
Zoe completed the look with black platform sandals and silver hoop earrings, as she let her hair flow down her back. Her date, a man named Jason, wore a classic black suit to match with Zoe.
"I thought I posted this!! Zoe on her way to her 3rd Emmy nomination Show," LaTonya captioned the photo of Zoe, and since she didn't know how to fit the pic on Instagram properly, Zoe's head was cropped from the post.
So, to redeem herself from social media's trolling, LaTonya posted the picture once again, this time without cropping it, and captioned it:
"This is me trying to fix the bad framing I did a couple of photos back."
Fans took to the comment section to share their thoughts on the picture. One user wrote "You did well our Queen. Anyway, your baby is so beautiful," and another added, "She looks like BOTH of you. Beautiful," and a third one said "Much better. I was like where's her head, Mrs. Jackson."
SAMUEL L. JACKSON'S SAVIORS
Two years ago, when Samuel L. Jackson received the Lifetime Achievement Award at the BET Awards, the 68-year-old took the chance to thank his wife and daughter for saving his life two decades ago.
He said on his speech, "The other two people that challenged me on a regular basis are my foundation and support, my daughter Zoe and my wife, LaTanya."
"The two women that actually found me passed out on the floor after I left somebody's bachelor party and put me in rehab the next day. And supported me and pushed me and give me a reason to get up and go and chase it day after day after day."
Please fill in your e-mail so we can share with you our top stories!