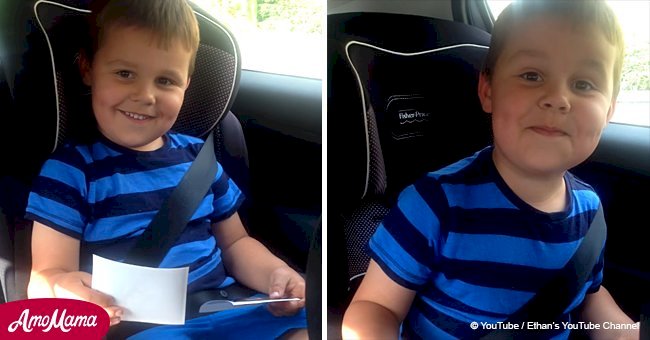 Video of 5-year-old boy reacting emotionally at becoming the elder brother

When the mother of a 5-year-old boy tells him he will be a big brother his emotional reaction warm hearts.
Mom Sarah waited to share the exciting news with Ethan her five-year-old son until the right time. The day came after Sarah's first ultrasound appointment. While in the car with Ethan seated in the safety chair mom hands him the ultrasound pictures of his new sibling.
Source: Ethan's YouTube Channel
Read more on our Twitter account @amomama_usa.
Ethan's reaction after looking at the picture comes across innocent as he remarks:
"It's me!"
Source: Ethan's YouTube Channel
Sarah explains to him she has a little brother or sister growing in her belly meaning he will get a sibling. Ethan will be a big brother. Excitedly he exclaims smiling at his mom:
"I hope you're not joking, I'm going to be a new big brother!"
He displays sheer happiness at hearing the news and continues by asking mom Sarah an array of questions.
Source: Ethan's YouTube Channel
Ethan finds it hard to believe his future brother or sister is growing in mom's belly but at the same time asks her many questions. Sarah recorded a video and posted it online, not expecting millions of likes and posts of gratitude for posting it.
Supermodel Chrissy Teigen also shared the reaction of her one-year-old daughter Luna to hear she will be a big sister. The reaction was matter of fact, commenting on Chrissy looking 'yucki', but Chrissy is not worried Luna welcoming her new brother.
Siblings of another nature came together when Ivette Ivens from Chicago stumbled across a French Bulldog puppy born the same day as her son, Dilan and Ivette said:
"I saw Farley's birth date and just knew it's meant to be."
Months later they Dilan and Farley, the French bulldog remains inseparable, eating, sleeping and playing together.
Source: Ivette Ivans Hot Spot Media
Please fill in your e-mail so we can share with you our top stories!