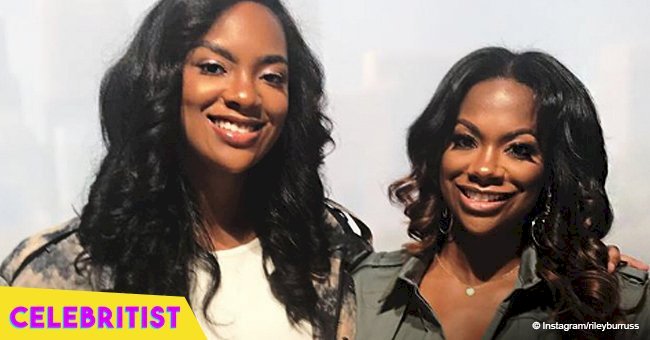 Kandi Burruss' daughter reacts to possibility of mom having another baby
Kandi Burruss' 16-year-old daughter, Riley, protests against her mom wanting more children. She says that 3 kids are enough.
In a recent announcement made by her 'frienemy', Porsha Williams, Kandi was not so happy to hear the news of Porsha's pregnancy. It has been no secret that Kandi Burruss has been wanting another child, but has also been having a hard time doing so. Learning about someone she shares a love-hate relationship with having what she wants, might have stirred jealousy inside of Kandi. Her daughter, however, had her own fair share of what to say about having a new sibling – no.
16-year-old Riley told her mother that she did not want any more siblings; Kaela and Ace are enough and so her mom should just stop wanting more. However, it really seems like Kandi wants more kids, as it was shown in a clip posted on Instagram that she was emotional about it. Of course, social media users had something to say about her mini attitude.
"Kandi needs to go she so annoying. 5 seconds in and Kandi already crying. Almost seems like forever. Porsha & Shamea will have their babies, and she'll still be pregnant. Porsha is engaged now too!! It's been announced on Instagram. Big [expletive] expensive ring also! Engaged, pregnant…she's living her best life & deserves it!!"
"Kandi so damn messy like frfr Porsha still got her bothered. Kandi is jealous of Porsha. Shamea is more on Porsha side than Kandi. They're family. Kandi wants to be evil.i just watched. I can't wait for this new season cause it's going to be messy just how I like it. They threw everything in Porsha's face. Homegirl never needed anger management because if that's the case, all of them should have got anger management. They threw the Kenya incident in her face, knowing all of them would've done the same. She befriended Phaedra; they threw it in her face. They bullied Porsha basically, and that's the truth. Kandi stays being jelly of Porsha."
Prior to this, news speculated months ago that Kandi was possibly pregnant, but it seems the rumors weren't true after all. It's not a bad thing to want more kids, so maybe it was quite understandable how she felt. Nevertheless, we should all still be happy for the new mama to be and should not try and shift the attention on herself as this would only make matters worse.
Please fill in your e-mail so we can share with you our top stories!