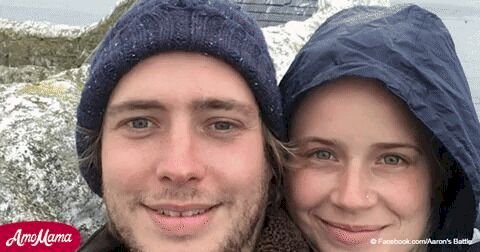 Man dies of cancer after doctors mistakenly diagnosed him with a very common illness
Doctors diagnosed allergies as cancer spread through a young man's body.
Aaron Winstanley was feeling ill with a constantly runny, congested nose, and his doctor mistakenly told him he had hayfever. For Aaron, it was to be a fatal mistake.
Just two months later, in August 2016 the young British man went blind in one eye, and doctors came back with a very different diagnosis: alveolar rhabdomyosarcoma - a soft tissue tumor that develops from connective tissues in the body; muscles, fat, the linings of joints, or blood vessels.
It was the beginning of Aaron's Battle, which was detailed on a Facebook page by his wife, Saraya Gallagher over the course of the next 2 years.
"It's with a broken heart that I have to say that Aaron passed away in the early hours of Friday morning. He was at home where he wanted to be and drifted off peacefully in his sleep."
Saraya Gallagher, Facebook/Aaron'sBattle, September 29, 2018.
A DEADLY DIAGNOSIS FOR A YOUNG MAN
Unfortunately for Aaron, by the time he was diagnosed, the rhabdomyosarcoma cancer had already spread from his cheek to the rest of his body.
The usual treatments of chemo and radiation therapy would be ineffective at this stage of Aaron's disease, but doctors believed immunotherapy might help him.
WHAT IS IMMUNOTHERAPY?
Immunotherapy is a recent type of cancer treatment that boosts the body's natural defenses to fight cancer. It uses substances made by the body or in a laboratory to improve or restore the function of the immune system.
AARON COULDN'T AFFORD THE TREATMENT
Immunotherapy isn't available on the National Health Service (NHS) in the United Kingdom, and Aaron would have to go to the Hallwang Clinic in Germany for treatment at a cost of approximately $390,500.
GO-FUND-ME CAMPAIGN TO SAVE AARON'S LIFE
Together with his wife, Aaron created a GoFundMe page and successfully raised the money he needed for his treatment, which he started in the Summer or 2018.
AARON'S BATTLE ENDED IN TRAGEDY
On September 29, 2018, Aaron's heartbroken wife posted news of his demise on Facebook, revealing that her young husband had passed away peacefully in his sleep.
Gallagher announced that a charity dedicated to helping cancer patients would be founded with the money that was left over from his treatment.
The charity would be honoring Aaron's legacy and passing on his fighting spirit to others facing the same terrible battle.
ANOTHER YOUNG LIFE THREATENED BY A "BAD" DIAGNOSIS
Kirstie Galbraith, 25, was 8 months pregnant with her first child when she noticed a lump on her breast.
She shared her concern with her doctor, who told her it was an abscess, and "nothing to worry about." He referred her to Stobhill Hospital in Glasgow to have the lump removed, but the wound just wouldn't heal.
At first, Kirstie noticed a small hole in her breast, then another opened and started leaking fluids. Soon the frightened young woman noticed that "flesh then started falling out of my breast."
Another visit to the doctor saw her being prescribed antibiotics, and the agony continued. Kristie gave birth to her daughter Harley, and three months later she went in for yet another surgery.
This time the diagnosis was stage 3 breast cancer, which had spread to her lymph nodes. She underwent a mastectomy and is now undergoing chemotherapy.
Kirstey bitterly revealed that the chemo destroyed her fertility, and she would never be able to have another child. Would her story have been different if she had been diagnosed earlier?
NHS authorities have stated that the doctors had proceeded in good faith and that the exams had not indicated the presence of cancer, but added that the clinical team would be "discussing it further."
Please fill in your e-mail so we can share with you our top stories!