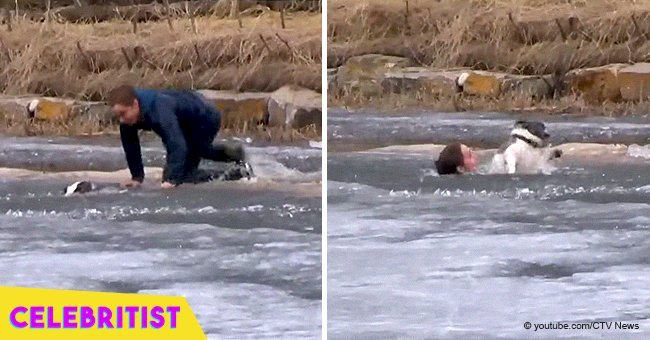 Brave man quickly leaps into frozen pond to save his drowning dog in viral video
A Canadian man went to extreme lengths to save the life of his furry friend who was drowning. Interestingly, the man doesn't see why there's so much buzz about his heroic act.
A media crew was set up next to a semi-frozen pond in St. Alberta, Alberta when a dog suddenly fell through the ice. Without thinking twice, its owner, Duncan McIver, plunged into the icy water to save his four-legged friend in Lacombe Lake Park.
McIver told CTV Edmonton:
"It's a split-second thing. You're not just going to let him die, right?"
The dog-lover explained that the sight of his dog falling through the ice had raised his adrenaline, and erased any thoughts of danger as he charged into action. He added that the temperature of the water did not bother him as well.
"I just know he's not a good swimmer," McIver said. "So I had to dive right now."
McIver maintained that he had no regrets doing what he did, saying:
"It would not be too much of a life if I had to watch my dog drown."
CTV News had set up its cameras in the park to film a segment on the rise in emergency crews responding to ice rescues.
Clips of the heroic rescue went viral immediately and were viewed around the world. ABC News in the United States shared the 38-second footage on their Twitter page, and it now has over two million views and thousands of retweets.
People from around the world have hailed McIver as a courageous man who went above and beyond for his dog. One Twitter user observed:
"Amazing how much our animals actually mean to us. They truly do become a part of our family."
Another noted: "He never hesitated what an absolute hero."
A third person said: "Nothing would stop me from saving my dog's life too...Nothing! He did what anyone would do for their kid. Bless them both."
THE DOG THAT WON'T BE RESCUED
While there are many stories of dog owners rescuing their canine buddies, one Caucasian Shepherd refused to be saved from a ravaging flood. Four-year-old Druzhok lived with the Andreev family who had to evacuate their home after a wave hit Eastern Russia in 2013.
The family moved in with relatives in an apartment, but Druzhok went missing shortly after. It turned out the pooch had returned to their half-submerged home and stood guard by the front door, preventing anyone from entering.
Despite the cold, Druzhok refused to be rescued and only moved when he saw his family coming toward him on a boat.
You can read Druzhok's heartwarming story here.
Please fill in your e-mail so we can share with you our top stories!